"My goal . . . to help you learn to shop for food in Mexico . . .prepare delicious meals using locally available ingredients . . . learn how to adapt your own recipes to use Mexican ingredients."
–Author Heather Stockard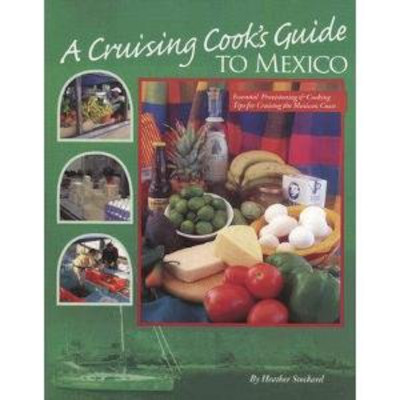 A Cruising Cook's Guide To Mexico is much more than a cookbook. In fact, you won't find the recipe section until you get to page 74. What you will find is one of the most complete and up-to-date provisioning guides ever published for those cruising the Mexican coast.
Heather relies on vast personal experience — three years of sailing the Pacific coast of Mexico with her husband aboard Legacy, a Saga 43 — and she thoroughly shares that abundant knowledge with her readers, in an easy-to -navigate format. But while she reveals all she knows, she also encourages would-be cruisers to use the information only as a guide, personalizing their experience based on their own cooking preferences.
The author's conversational writing style draws readers in from the first page. You will feel as if you are sitting and chatting with Heather — not reading a book. Her goal is to take the guesswork out of provisioning for those cruising Pacific Mexico. Two tips she shares: 1) don't believe everything you are told about what to take, and 2) you are not likely going to change the way you eat entirely, just because you're cruising.
In "General Provisioning Tips" she advises future cruisers on a multitude of topics, including cash and currency, the variety of grocery stores available and what to expect, safe food and water, and the most useful items to have onboard.
Find out what foods and ingredients are available, along with their Spanish translation, where they can be found, and ideas for preparation in the section titled: "Ingredients and Cooking Terms."
"Things to Bring From the U.S." and "Substitutions, Conversions and Rules of Thumb" are two chapters you will want to be sure to read before leaving home. Knowing what to take and what's available once you get there can make life a whole lot easier. Why overload your boat if you don't need to — or do without if you can bring it along? And once you are happily cruising, you will still be able to prepare your favorite recipes, even if you run out of your usual ingredient, by utilizing one of the tried-and-true substitutions listed. Extremely helpful is the exchange rate chart on page 52, converting pesos to American dollars.
Stockard provides information on Cabo San Lucas, La Paz, Santa Rosalia, Puerto Vallarta, and numerous other port cities and small villages you may visit, including the VHF channels used, transportation offered onshore, types of stores and foods available, and more in the "Local Provisioning Information" chapter.
The recipe section is another book inside a book and includes appetizers, beverages, and raft-up food; make-ahead main dishes and favorite main dish recipes; soups, salads, and side dish recipes; bread and breakfast recipes; dessert, sauce, condiment, and topping recipes.
Prepare "Tuna Pate" or "Warm Artichoke and Chile Dip" for your next raft-up. Enjoy a "Cranberry Cooler" or "Sunbreak Mango Margarita" on deck after a day of sailing, followed by a delicious pre-prepared dish of "Shrimp Paella" or "Easy Baja-Style Fish Tacos." How about a thick wedge of "Triple Chocolate Rum Cake" for dessert? Still hungry? You'll find nearly 170 recipes to choose from.
A Cruising Cook's Guide To Mexico would be a great addition to any cruiser's galley or boat-book library.
A Cruising Cook's Guide To Mexico: Essential Provisioning & Cooking Tips for Cruising the Mexican Coast by Heather Stockard (Seaworthy Publications, Inc., 2008: 196 pages)