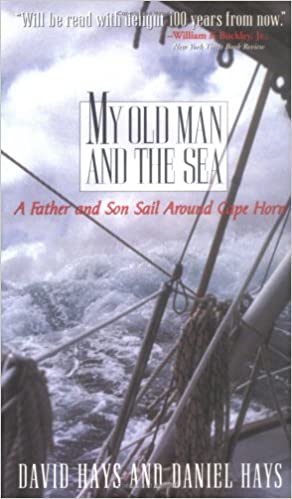 During these COVID-19 days of isolation, this 17,000-mile voyage by a father and son on a 25-foot engineless sloop, has the effect of making our stay-at-home confinement seem downright luxurious in comparison.
Son, Daniel, sailed all 17,000 miles from New London, Connecticut, through the Panama Canal, around The Horn and back home. Often with various human crew – always with small animals. His father, David, came aboard in Jamaica and debarked in Montevideo. Still, they had plenty of days alone together to try their respective patience. There is both love and tension between these experienced sailors.
Good Old Boat uses affiliate links and may earn a small commission if you purchase anything after clicking through one of them. This comes at no cost to you. 
Each chapter has a section written separately by Dan and David, giving us different voices and perspectives on what is happening or what they are thinking. It is almost two books in one.
The voyage took place in 1984-85 with the Cape rounding on January 8, 1985, preceding the publication of the book by ten years. Their boat, Sparrow, is a Westerly Virtue 25 that they completed from a partially finished fiberglass hull. They chose to go engineless to free up space and avoid complications. I was astonished by all the stuff they took along: four pages of tightly spaced recitation of equipment, spares, clothing, and provisions, all jammed into 25-feet of pocket cruiser, including an inflatable dinghy, life raft, six headsails and a foresail.
Pre-GPS and not willing to buy Sat Nav, they got by with celestial navigation, of which there are good descriptions of how it works and the tribulations of doing it at sea. Kerosene lamps instead of LEDs. Old school cruising. One interesting tip they had followed: fill the cabin sole knee-deep with crumpled newspaper to absorb water during the rougher times. When it gets wet – they pitch it overboard. They built Sparrow to have all wet things aft in the cabin, with a "do-not-cross-while-wet" step down into the saloon. Staying as dry as you can is so important on such long voyages. They also did six-hour watches, letting the Navik steer nearly always except in the worst conditions when they went to two-hour watches. Essentially, they sailed like solo sailors, that the smallness of Sparrow enables, rarely needing the off-watch person on deck to help.
While there is certainly a lot of travelogue describing the journey and much about preparations for the voyage, there is perhaps a bit too much about their personal lives and family relations. This aspect will be up to the reader to decide. Some may empathize, others find this outside the travelogue box. This is perhaps why I recalled so little of this book after a first reading, and just reread it like new for the second time. Nonetheless, it is a remarkable story of one of the smallest yachts to sail past The Horn.
My Old Man and the Sea: A Father and Son Sail Around Cape Horn, by David Hays and Daniel Hays (Algonquin Books of Chapel Hill, 1995)