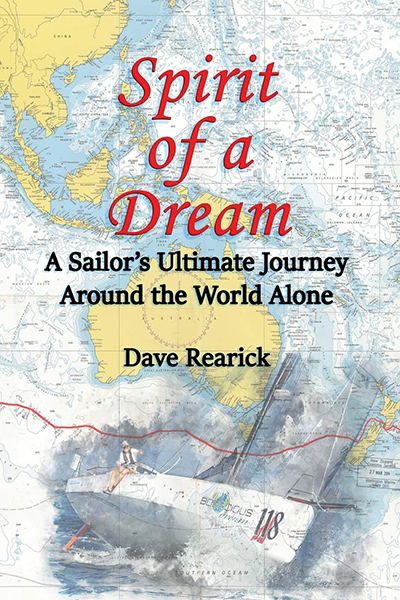 What do you do when you've prepared for a single-handed around-the-world sailboat competition, have a great 40-foot high-performance boat ready to go… and then the race is called off? Go. That's what Dave Rearick did. A Great Lakes sailor and racer, with several long-distance single-handed competitions under his belt and well-qualified for the Global Oceans Race, his sponsor said, "Go ahead, fulfill your dream, take the boat and sail it around the world." (Or words to that effect; this is not in the book, but rather from a first person encounter with the author by my friend whose book I borrowed).
In this book, Rearick not only does an excellent job of telling the reader the details of running a boat single-handed on vast ocean legs, but also entertains with poetic introspection on his life and life aboard his boat, Bodacious Dream. Or Bo for short.
With a donated soccer ball ("Franklin") and his autopilot ("Otto") along as crew, the four of them (boat, skipper, ball, and autopilot) take us on that grand adventure that only about 300 sailors have managed to experience. Rearick, I first assumed, was a fairly young go-getter setting out on this adventure. But well into the story we learn this isn't the case, and puts this physically demanding adventure into a whole new light.
Rearick's high-performance Kiwi 40 racing sloop, with movable water ballast, twin rudders, and a 10-foot draft has also, of all things, a hanked-on genoa that this singlehander must frequently go forward to reef. Rearick explains this sail choice and its effect on his days under sail. The Kiwi 40 is directionally unstable and must be hand-steered or driven by the autopilot. So, when the inevitable autopilot failure happens in stormy weather, he is first challenged to get the boat to self-steer so he can do a difficult chore in a tight space. Unlike some round-the-world sailing books, Spirit of a Dream only reports difficulties rather than disasters, of which there were none. However, Rearick's explanations of what is taking place leave the reader well informed for such issues as they arise. He also let's us inside his mind as he deals with the inevitable loneliness of a very social sailor.
It seems everyone who does a sailing circumnavigation of our little blue planet writes a book about their adventure. Many of those books are droll recollections. Rearick's style here is compelling and the book reads more like a novel than a recitation of a ship's log.
Spirit of a Dream: A Sailor's Ultimate Journey Around the World Alone, by Dave Rearick (Seaworthy Books, 2018; 241 pages)