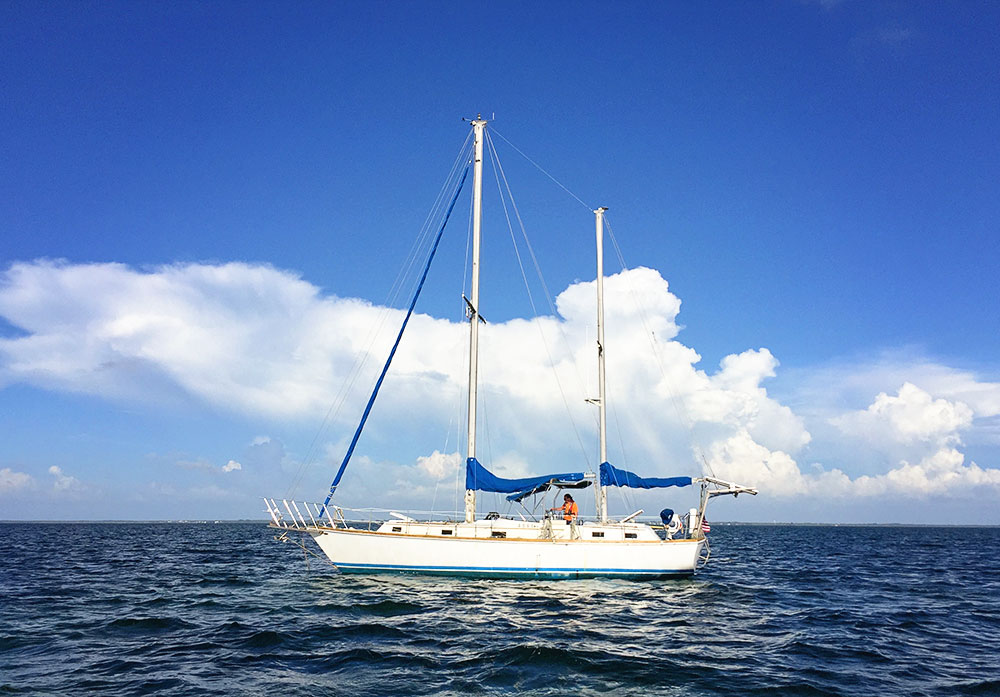 My wife, Rhonda, and I didn't grow up around boats. But after moving to Florida and raising a family, we grew fond of the idea of buying a boat and perhaps one day sailing away. New to the world of wind and water, we started attending the sailboat shows. "How many miles does she have on her?" I asked at one time or another. If any of the boats we saw was on wheels, I'd surely have kicked a tire like I knew what I was doing. After looking for a few years, we'd gained some knowledge (not much, just some) and set our sights firmly on a new 2015 Beneteau Oceanis 35. I was enamored with its twin wheels and light-colored wood interior. Surely this was the boat of all boats, one that could take us anywhere and everywhere.
We didn't pull the trigger on the Beneteau, stopped short by a little voice inside that told me to start small and learn to sail. I listened. And we bought a 1980 Tanzer 7.5 shoal-draft sailboat that needed some attention. After spending a summer fixing her up, I knew every piece of that boat, inside and out. We sailed her almost every day for a year before our affections turned to a neglected 1980 AMF/Paceship PY26 in need of a new engine and lots of fiberglass work. The electrical and plumbing were in dire need of updating. As I worked, I was able to compare the construction quality of the Paceship to that of the Tanzer. They each had strengths and weaknesses, I learned more.
In addition to the keelboats, we played with sailing dinghies, a total of seven we owned over a five-year span, starting with a 1965 Vanguard 70-series racing dinghy that we sailed as often as we could. I loved the salty life and wanted to be immersed in it wholly. I wanted to sail for a living and deliver boats for people. I earned my Captain's license.
By now I've seen and sailed many boats, some that smelled of fresh fiberglass, others of wood and diesel, still others of old roach and rat excrement. I have seen good old boats that looked decrepit, clean up to look new. I have seen new boats turn haggard in just a few years, plagued by rusty stainless, spider cracks, and gelcoat chipping.
I've come to realize that older boats, given enough blood, sweat, or tears, will offer up the years of knowledge and experience they carry. This is how and why we become attached. Not a day passes where I do not feel connected with our current (and final) boat: a 1974 Gulfstar 41 Ketch. We gained a better understanding of what we needed in a boat and she fits the bill. She doesn't have the latest greatest gadgetry, but I can draw the electric, plumbing, and navigation systems with my eyes closed, forward and backward. I am even becoming a Perkins diesel mechanic (if it isn't leaking oil, stop, it needs more).
I have learned it's not the miles on a boat that counts, it's how that boat is made. Good bones are essential. Having the latest gizmo aboard doesn't matter, what matters is knowing how to use what you do have aboard. I have an older, smaller chartplotter that is a back up to my paper charts. I bought a sextant and I'm certain it will never go obsolete.
I still think that Beneteau we turned our backs on is a gorgeous boat. It just is. But I have outgrown it. I was once turned on by that boat's open, airy interior, but now I'm drawn to the coziness and warmth of our Gulfstar's ship lap and teak interior and how it is comforting and seems to embrace us in a loving hug as to say, "Don't worry, I got you." Two wheels are cool and do allow for great visibility, but two steering systems means twice the risk that something breaks. The Beneteau's thin, lightweight deck and hull are great for speed, but I will take my heavy, slow, and seakindly boat as she is time proven. And she has secrets still to share…for just a bit more blood, sweat, and tears; a cheap price to pay for the wonder she has shown us.