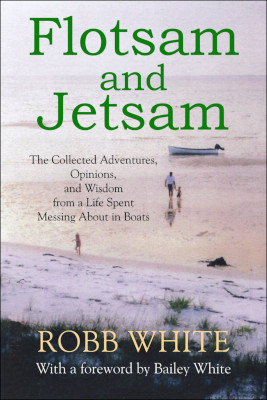 Those of you Good Ol' Boat readers who listen to NPR may be aware of commentator Bailey White. Turns out she had a brother named Robb White who was a science teacher, a boatbuilder, a man who loved to marvel at the world, and a writer of prodigious talent. He lived down in the Georgia pine woods, just north of the Florida line near the Big Bend of the Gulf of Mexico, and he had a 65-year-long childhood, much of which he recorded in articles written for Messing About in Boats magazine and other places. His stories have been collected by his wife Jane into this book, Flotsam and Jetsam.
He writes in long, rambling sentences that have a tendency to veer off in odd directions and use peculiar words, kind of like you'd expect a man from rural Georgia to write, except that he knew a thing or two about a thing or two — he will use the local name, the "Yankee" name, and the scientific Latin name for whatever bit of local flora and fauna he's discussing. When talking about making a tin canoe, he uses the correct jargon to describe the construction.
I need to take a minute to describe the construction of a tin canoe. They were made from one sheet of "five V crimp," obtained from the roof of a chicken house, and shaped by laying it on a nice fluffy lawn and stomping it with bare feet until it looks sort of like an 1890's battleship. The balance between beam and freeboard is real tricky. If made too narrow, it will be so tippy you won't be able to get settled before it turns over. If made too wide, it won't have enough freeboard and will sink quickly to the bottom.
But I digress. White's essays into boats (sail and power) outboard motors, weather, island living, anchoring, the ecology of the Florida Bend country, children, fish, ducks, and hurricanes are both entertaining and educational. Although much of the book involves powerboats, there are some tales of voyages under sail: "Naked Woman Inlet," "The Time We Almost Lost the Chicken Feed Skiff," and "Po Boy Bahama Trip," in which we learn that lee shores off of poor holding anchorages are good places to look for salvageable boat parts.
This is the kind of book which will make you an annoyance to others in your vicinity as you quote cute descriptions, bizarre events, and bits of philosophy at them. In that spirit I leave you with this: "If your boat ain't too pretty to walk away from without turning for another look, you ain't getting all the goody out of life." Read this one and save me the trouble of quoting it to you.
Flotsam and Jestsam: The Collected Adventures, Opinions, and Wisdom from a Life Spent Messing about in Boats by Robb White, Breakaway Books, 2009;568 pages)