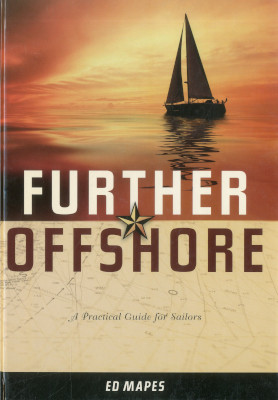 Further Offshore is the textbook for those who are serious about sailing the open waters. All-inclusive, it is meant to be read and digested from cover to cover.
Delve in and you will find six sections to explore, each one covering a separate aspect of offshore sailing in intricate detail. Nothing is left out; when you finish reading Further Offshore, it is doubtful you will have any questions left unanswered.
"The Big Picture" is an introduction to what Mapes calls "the voyage." He addresses everything from making the final decision to go on an extended voyage and finding the right boat, to equipping your boat, choosing your crew, cruising with children, meal and trip planning, and more.
"The Boat and Fitting Out" takes you right to the nitty-gritty details of finding the right sailboat for your adventure. The author discusses types, weights and configurations of hulls, boat size in relation to need, construction type and materials, steering, mast and rigging — the list is extensive.Information on gear and instrumentation is also included and covers Emergency Position Indication Radio Beacon (EPIRB), self-steering systems, Global Positioning System (GPS), communications and safety equipment and measures, just to name a few.
"Planning for the Voyage" — It's time to start planning. Most sailors who are able to finally embark upon bluewater sailing are not as young as they used to be. This means you'll need to plan to take care of your health before sailing off into the sunset.Smart voyagers will prepare before leaving dry land by signing up for emergency first aid classes, putting together an onboard medical kit (complete lists of recommended contents are provided) and purchasing comprehensive health insurance coverage while at sea.
Finding the best boat insurance, a guide to weather fundamentals, routing your voyage, preparing the crew, meal planning and provisioning, and final preparations are also covered. You may decide to read this section more than once, as it deals with so many important topics.
In "Boat Handling and Shipkeeping" the following are covered in detail: maneuvering under sail or power, docking, anchoring, going up the mast, safety tactics, protocols and procedures. This is a must-read section as sailing in extreme conditions is addressed as well, including tropical cyclones, hurricanes, waves, and navigating to safety as a crew.Tips on routine maintenance and upkeep of your vessel are also included. No details are left out — even insects and other pests are addressed.
"Underway," one of the shorter sections of the book, contains thorough details on departure, watchkeeping, logkeeping, making landfall, and port clearance.
The Appendices include various usable checklists, lists, and plans to ensure you are ready to shove off, a general Power of Attorney form, COLREGS list, a section on medical emergency procedures, and helpful conversion tables.
Any questions? Read Further Offshore for all the answers!
Further Offshore, A Practical Guide for Sailors by Ed Mapes, (Sheridan House, 2008; 352 pages)