Impeller Advice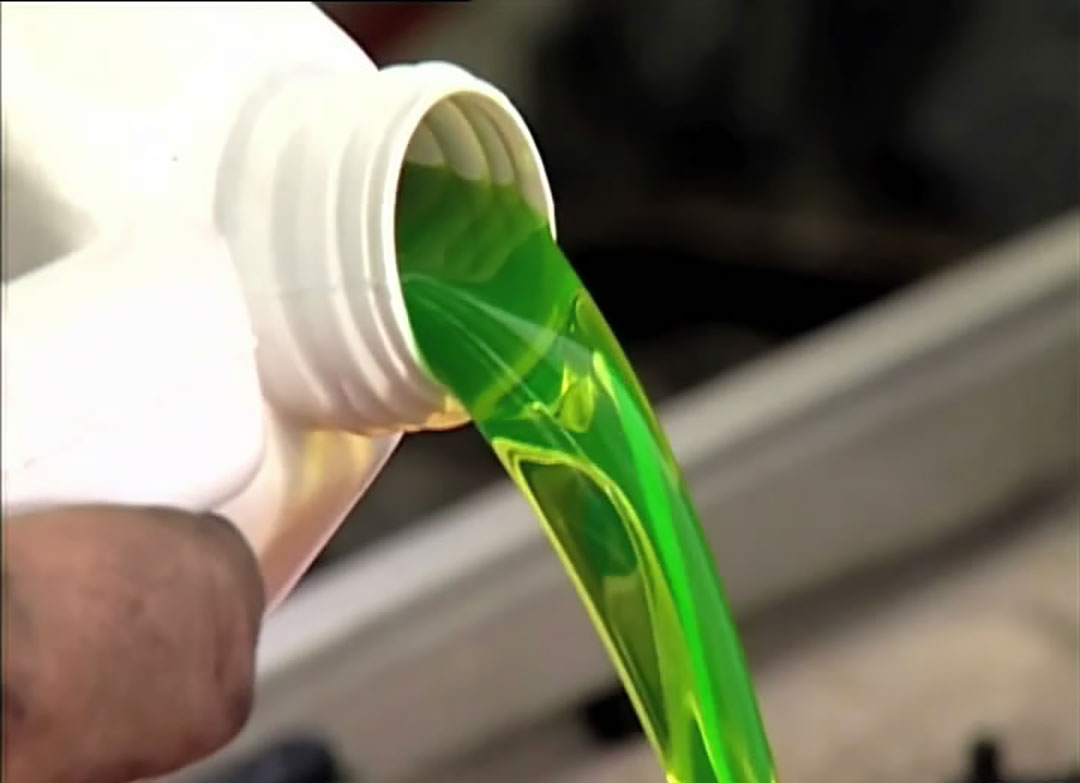 I saw the hack; a good, traditional hack for many similar installation problems ("Impeller Install Hack," The Dogwatch, January 2021).
Something else folks might not know: It is common knowledge that impeller vanes are often stiff and prone to breakage in the spring. The reason can be antifreeze.
Most impellers are either nitrile or neoprene. Nitrile is largely inert to antifreeze. However, neoprene impellers (and head joker valves) are severely stiffened by propylene glycol antifreeze (the pink stuff). Ethylene glycol (the green stuff), on the other hand, has no effect on neoprene. So, if you are going to use antifreeze in the head or engine, and the impeller is neoprene (Jabsco parts are neoprene, Raritan parts are nitrile), consider using ethylene glycol. Both are recyclable and both are considered relatively harmless in the marine environment, since they are effectively non-toxic to fish and invertebrates (it's on the SDS). Just be careful to keep them away from mammals.
Potable water systems, of course, must only be winterized with propylene glycol (the pink stuff). Very important.
—Drew Frye, Good Old Boat Technical Editor, Virginia
Vaseline probably not the best choice for rubber vanes, KY would be better (or a silicone-based lube—but readers will remember the hint better if we call out KY).
—Fred Musser, Severna Park, Maryland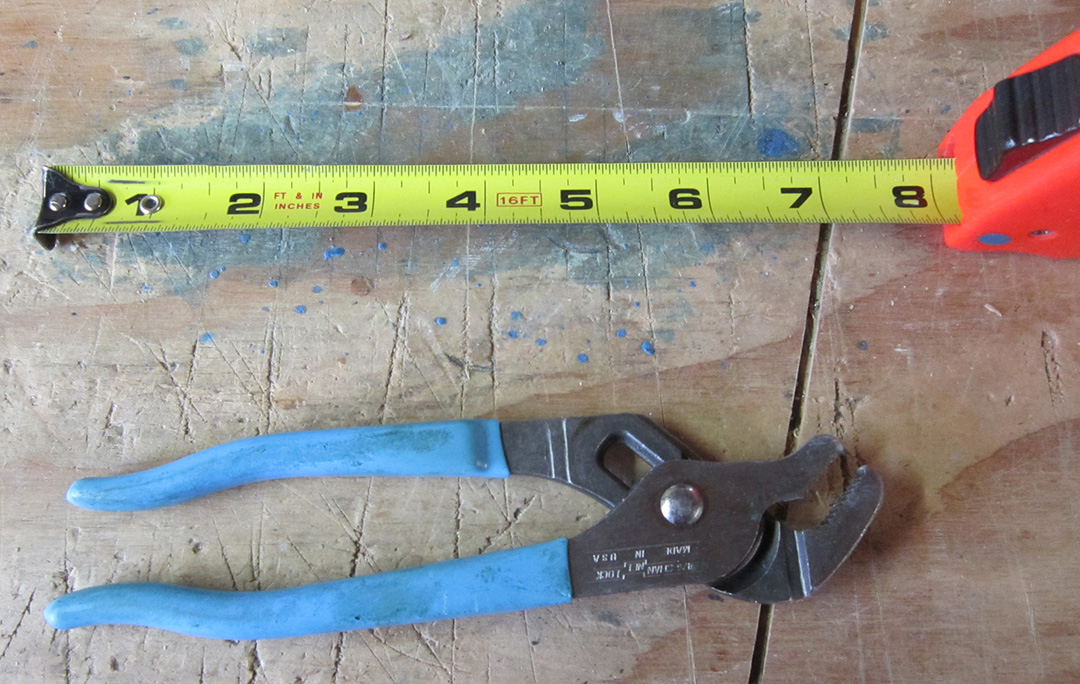 That is an interesting and easy to use technique for the impeller installation. I have previously used a hose clamp to compress the vanes of the impeller, something I read about a while ago and it works very well.
A related task is getting the old impeller out! At one time, I used two screwdrivers, one at each end of a diameter, and levered on the pump housing. However, that can result in damage to the housing and potential problems with sealing on the cover. I now use small channel lock pliers and I lever them on a block of wood pressed against the impeller housing (when a straight pull will not work). On a previous engine with a Jabsco pump, I had to slightly grind down the outside of the upper arm of these pliers to fit in the housing. Their designation is 426 Channel Lock which I bought at Lowes and they appear to be still available.
—David Salter, Bath, Ontario
That's funny as hell! Showing an old decrepit impeller with ready-to-break-off vanes ready to install. DUH.
—Ken Kloeber, Boston, New York
Ken, I'm going out on a limb here, but I suspect you don't really think we were funny or trying to be funny. Your sarcasm aside, if we were so slick as to have purchased a new impeller to recreate the author's photo, A) I don't think we'd have made the hack any clearer, B) it would mean we had a bigger budget, a bigger staff, more time, and a corporate mentality that turned Good Old Boat (and The Dogwatch) into something far less scrappy and down-to-earth than we are, and then we wouldn't be what we are, one of the few independent sailing magazines published in North America, and the most relevant sailing magazine published anywhere. Yeah? —Michael Robertson, Editor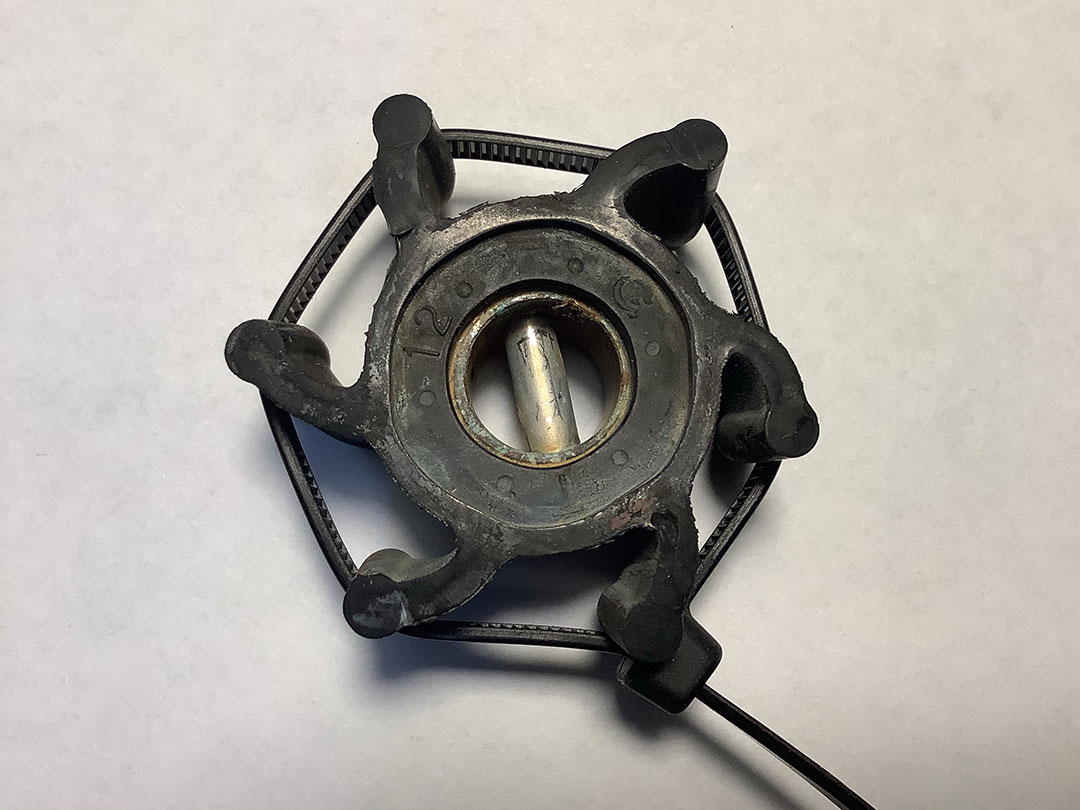 One More
My uncle passed on a Rudder magazine when I was 8 years old. Cover had a sailboat at anchor, floating in crystal-clear turquoise water, white sand beach and palm trees in the background. Inside, I was mesmerized by the boat plans and diagrams.  One magazine copy set the course of my life.
—John Churchill, Nurdle, Bristol 35.5
Insurance for All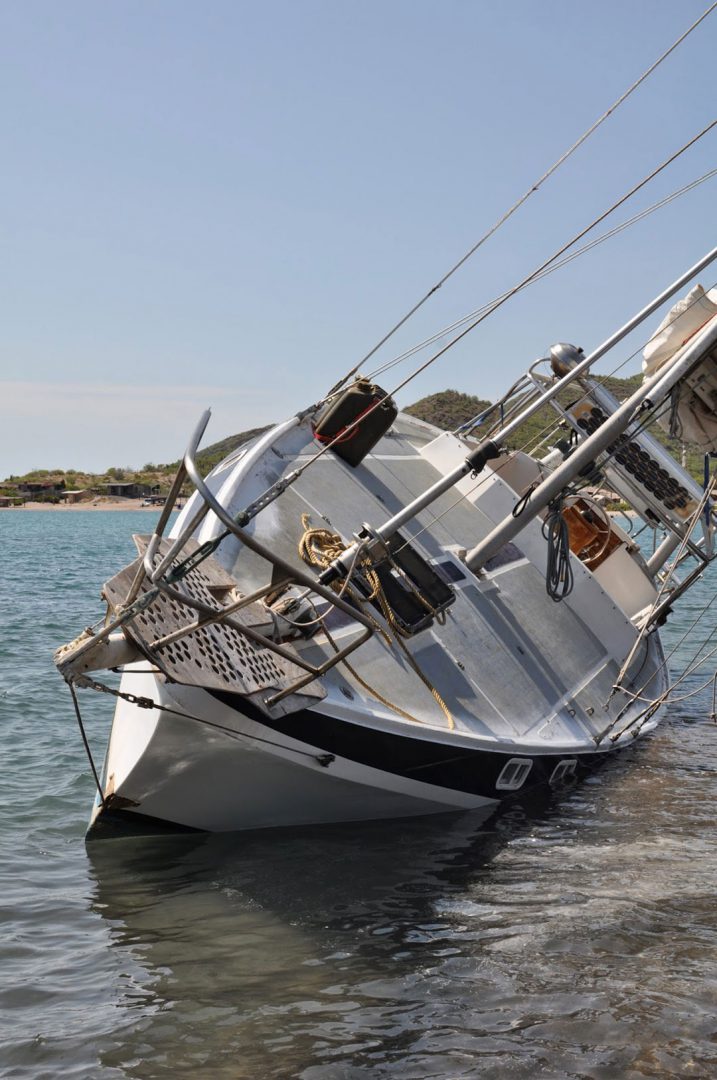 Last month, I put it to readers about hull insurance, specifically wondering about the trials, tribulations, and successes folks have had insuring an old hull. We've got a writer working on a story about hull insurance for good old boats for an upcoming issue of Good Old Boat magazine, and this input and insight is welcome.
This feedback isn't intended as a survey of companies, but for what it's worth, here is a list of the companies mentioned favorably by readers: Hagerty Insurance, BoatUS, Liberty Mutual, Aviva, Progressive, State Farm, and Gowrie Group.
I promised a Good Old Boat hat or shirt to the reader I feature first. This month, I'm going to give Marcus Opitz the first word…
—Michael Robertson, Editor
***
I was about to write to Good Old Boat and suggest insurance as a topic for research and a future article! I am the owner of a 1975 Ontario 32, which I acquired last summer and am currently in the process of refitting and upgrading. My previous boat was a 1980 C&C 27 Mk III that I also extensively upgraded over the 16 years I owned her. Recently, there has been some discussion in the Facebook group for Ontario Yacht owners about people being unable to continue insuring their boats for an agreed-upon insured value, or even having trouble renewing insurance with their existing insurers, because of their boats' ages (generally ranging from 35 to 50 years old).
The problem with boat insurance appears to be systemic, with these root causes:
Vintage boats vary wildly in their condition and level of maintenance. Some are floating wrecks, or wrecks up on the hard.
No insurer wants to entice fraud by allowing a valuation that would encourage an owner to claim an insurance loss greater than the actual market value or replacement cost of the boat.
Insurers (and owners) are dependent on surveyors to determine the true condition and value of a vessel.
This third point seems to me to be the crux of the issue. Like many long-time boat owners, my experiences with surveyors over the years have left me somewhat jaded. I seek out the most reputable surveyors I can find, but one questioned perfectly good wiring and missed rot in the compression post and tabernacle base, which soon necessitated expensive repairs. Another, who did the pre-purchase survey on my Ontario 32, insisted that all of the seacocks were seized, which testing later revealed to be incorrect. Unfortunately, that gentleman had several surveys which he needed to complete that day and so his time for investigation was limited. Surveyors are frequently hampered by limitations of time, weather, and access.
For surveyors, valuations are even more challenging. A vessel's value is highly subjective, so the surveyor must look to recent market prices, which generally do not reveal a great deal about the condition of the vessel sold. When the surveyor valued my Ontario 32, he looked to current and past listings to determine reasonable market value. I told him that I had closely inspected all of the 32's that were for sale in my province and that none of the others were comparable in condition to the one I was purchasing. He thus slightly increased his valuation. From a liability perspective, the surveyor is in a bind. He must be able to justify his valuation with market data, but that data is vague. It may also be difficult for a surveyor to assess the quality of upgrades to any boat, especially when it comes to hidden structural items. So it becomes that surveyors, for legal reasons, must couch all of their assessments and recommendations in very general terms.
I have long insured my boats for a fixed value that is significantly higher than the going market price for that model and year. I do this because I invest a great deal of time and money in modernizing and renovating the boats I own. I have used the same broker and insurance plan since 1987, when I bought my second boat, a 1974 C&C 25. In 2005, when I insured my newly purchased C&C 27, the agreed value wound up being several thousand dollars higher than I intended, because the broker pointed out that there was a pricing break in the rates which would actually make it cheaper to insure at the higher replacement value. I maintained that agreed-upon value for many years, even through a claim resulting from a collision while racing. However, about three years ago I was informed by the insurer, Aviva, that they would no longer support this agreed value and they instead specified what they considered to be a reasonable market value. This represented a sharp drop in the insured value and the amount covered would in no way allow me to purchase a relatively clean C&C 27 and re-equip to the same level as the boat I owned. When I purchased my Ontario 32, I again took out a policy for a specified value which covered both the purchase price of the boat and the investment in materials I expected to make as part of the refit.
My cousin in Amsterdam owns and maintains a canal boat which was originally built in 1889 and, so far as I know, he has no problem insuring it for replacement value. But then, Europeans tend not to be so obsessed as North Americans with the notion that "newer is nicer, older means disposable." We need to find our way to valuing good old boats in the same fashion as restored vintage cars. A 1975 GTO may be a rusting wreck, or it may be a restored classic worth tens of thousands of dollars. By the time I finish refitting my Ontario 32, she will be more comfortable than, and just as capable as, a modern comparable Beneteau that sells for about $200,000 CDN.
—Marcus Opitz, Everdina, Ontario 32
My good old boat, a 1966 Islander 29, has been happily insured by the Hagerty Insurance, well known for their involvement with classic cars. They are based in Traverse City, Michigan.
—Tom Doherty, Assonet, Massachusetts
We've had Sionna, our 1963 Triangle 32 center-cockpit ketch, insured through BoatUS (underwritten by Geico) for five years now. Coverage is East Coast and Bahamas, cost is about $850 per year on a $27,000 hull value.
Customer service has been great, we think the premium is reasonable (it's gone up at the inflation rate, which seems fair), and our questions are always answered promptly.
Highly recommend!
—Keith & Nicki, Rockland, Maine
I have two good old boats: a 1959 Lyman runabout and a 1968 Pearson Electra. I cannot get either boat insured in East Texas. I've had multiple agents look at the boats in person, request photos, want expensive surveys, or require me to take the boats to their offices. If they quote a price, it's astronomical and contrary to the principle of owning a good old boat. Neither boat is insured.
—John Leppert, Texas
We have a 1979 O'Day 28 and, so far, we haven't had a problem insuring it. The boat is in Maine and insured by Liberty Mutual Insurance, the same company that insures our homes and vehicles. In fact, after up grading to a diesel engine, the insurance company increased the boat's value.
—Ken Parsons, Maine
Our Islander Bahama 30 is now 42 years old and we've not had trouble insuring her in the 20 years we've owned her. An out-of-water survey was mandatory when we first bought a policy and since that time, another has been required every five years. In our part of the world (western Canada) it seems that underwriters require a survey on a boat after 15 years of age, then every five years after that. The underwriters provide a list of local surveyors approved by the company.
As in all insurance, the cost of the policy is based on the "current market value" of the vessel. What is that value of a 42-year-old Islander Bahama 30? Examples online are for sale at prices ranging from $9,000 to $20,000, obviously a factor of condition and location. With everything we've put into our boat (new diesel engine, new standing rigging, refurbished inside and out, new sails) I value the boat at $30,000. This is the anticipated pay-out should the boat be a total loss (sinking or fire). This is also the top payout should there be accidental damage (like a grounding, for which I've seen repair costs beyond $60,000 on newer Beneteaus and Catalinas). The surveyor agreed on my value. At that value I am confident I could find another boat and start over again. The replacement value is determined to be $125,000. My insurance rates have climbed with inflation, just like upkeep and moorage has. This year's premium is $822.00.
As insurance policies of all kinds are basically underwritten by a handful of companies worldwide, it would be an interesting comparison to see the cost of such policies at various locations throughout North America, let alone the rest of the boating world.
—Bert Vermeer, Good Old Boat Contributing Editor, Sidney, British Columbia
I used BoatUS insurance for years. Among the good things is their newsletter describing loss claims they received—both informative and entertaining. The only negative is that they may not pay for losses due to lack of maintenance. This was alluded to several times, but never fully explained. They should clearly spell out the owner's responsibilities in this area.
—Ed Lawler, former owner of a 1976 Bristol 24
We have owned a few classic plastic sailboats and have always purchased them for less than $8,000 ( Tartan 34 classic, Irwin 32, Morgan 28, and Morgan 30, all 1968-1970 models).
Our solution, since we haven't spent a lot on any boat, has been to insure for liability only on our homeowner's policy. Depending on the policy, we have paid as much as $80 a year and as little as $6! Not a solution for everyone, but something to consider.
—Bill and Mimi Drinkuth, Connecticut
I've been with Aviva for seven years and had never had an issue. However, last year they told me that they wanted an updated survey, due to the age of my boat (1985 Newport 30). I didn't think much about it, other than grumbling at the expense, until I talked to several neighbors at the marina, all with older boats and with various insurers, who all said "Hey, they did that to me this spring too!"
I wonder if something has changed in the industry- my last survey was seven years ago, when I bought the boat.
—Lance, Oakville, Ontario
I own a 1971 Pearson 35 and my insurance carrier is Progressive. The cost is $630 per year. I had a mishap where my roller furler was broken and they covered it without argument.
—Bill Hooper, Saco, Maine.
We have a 1976 Cal 3-34, and previously owned a 1976 Cal 2-27. (I think this puts us in the old-boat category!) We have always had insurance, starting in 2003 when we bought the 2-27.
Insurance was easy to obtain when we bought the 2-27 as she was freshly surveyed, the basis for the policy Progressive sold us. We kept the same insurer until 2016, when we sold the 2-27 and bought the 3-34. For those years we never let the policy lapse and I don't remember them requiring any additional information.
That changed when we purchased the 3-34. To start, Progressive allowed us to use a two-year-old survey to obtain coverage. (Would they have allowed this had we not had a long, claim-less track record with them?) But three years later, when that survey was 5 years old, we were required to obtain a new survey to continue coverage. The agent I spoke to informed me this is policy for older boats. Incidentally, we had to deal with this as COVID was spreading rapidly in our area. Fortunately, our insurance agent was very supportive throughout the convoluted process that ensued. Also, our rates have been reasonable and have rarely increased (very different from our other insurance policies!).
—Nancy Lewis-Williams, Vashon Island, Washington
We have a 1978 Tartan 27-2. It's our first sailboat. When we initially tried to insure it, the agent (Farmers Insurance) required a survey (pretty standard, but a little silly for a boat with a value of ~$5,000). Furthermore, Farmers required that a USCG-certified captain spend the first month sailing with us, despite our numerous sailing experiences and courses completed. We were told this was a standard requirement for new owners.
I then tried State Farm. They were very easy to work with, didn't require a survey, and didn't require the captain. And as we've worked on and refitted our boat, we've steadily increased its insured value, without much concern from our insurance agent. I believe we're at ~$10k, and have yet to come across any steep requirements based on either the boat's age or its value.
—Lee Mueller, Grand Rapids, Michigan
We have had serious problems insuring Entr'acte, our launched-in-1980 Nor'Sea 27. While cruising in Europe we were insured with Topsail Insurance, a UK company. In 2007, several years in, we were suddenly dropped with no explanation. Thinking this was some mistake, I wrote to our agent and asked, "Hey what's up, why did you do this?" There are only two of us, great record, no claims. We are mature and the boat is well maintained and proven.
The only answer we received was a very short e mail. Let me quote it here:
"All of the above."
That's it. No signature. Nothing. I called them on the phone and they said both we and the boat were too old, told us to look elsewhere!
We did find IMIS, now the Gowrie Group, in Maryland. It was started by a retired cruiser who had a policy specifically written for just our profile: 2 experienced crew sailing an older boat. So far, all is still well, though we have not ever tested the policy with a claim so we don't know for certain whether the parachute works or not.
—Ed Zacko, Good Old Boat Contributing Editor, Arizona