Our Next Guest, Please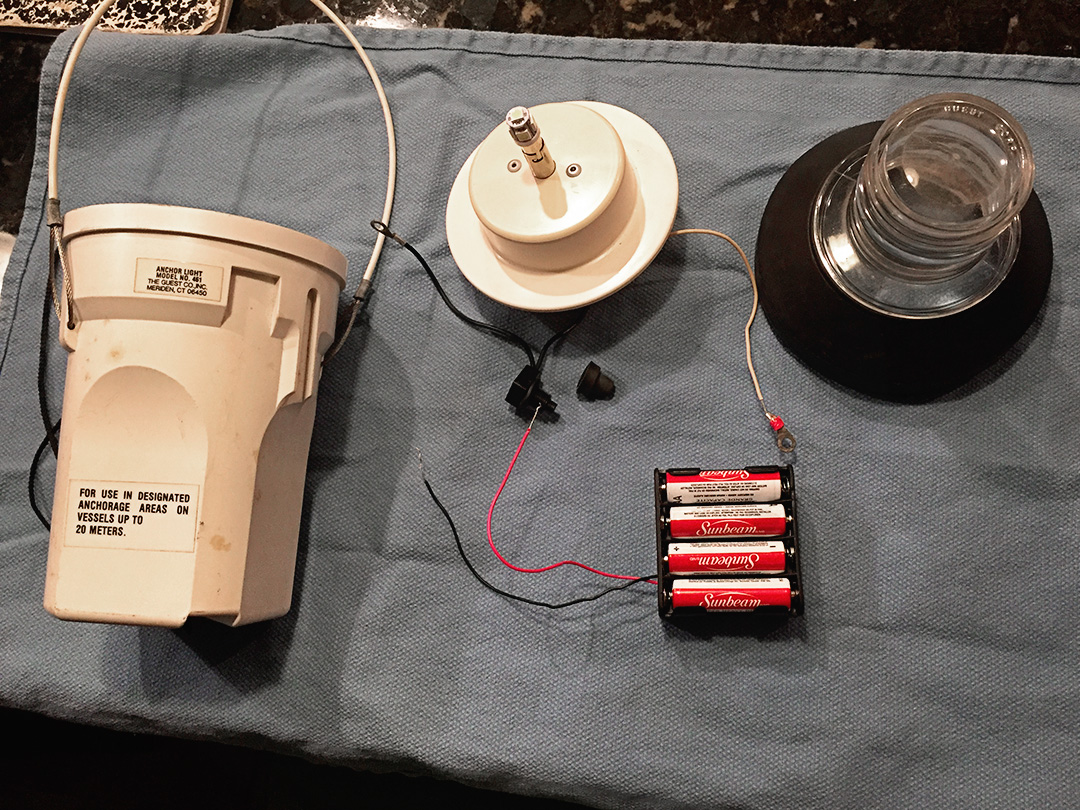 In the latest edition of The Dogwatch, there was a great little article by John Churchill ("Modernizing a Guest Anchor Light," February, 2021). Being a good old boater (cheap), I've got one of these Guest lights that has served me for a couple of decades and I would like to make the same upgrade. Would it be possible to get John to provide the part numbers for the LED bulbs he bought?
—Rich Sutorius, Mañana, Seafarer 26
John Churchill Responds:
I tend to get cheap stuff direct from China on eBay, typically unbranded without part numbers. However, for the correct size and contacts placements, make sure it has a BA9S base to fit the Guest light. Also note the number of LEDs (also known as SMDs); the bulb I chose has 5, 10 might be better. In my experience, LEDs tend to be tolerant of wide voltage ranges, but a bulb intended for 12-volt automotive use is preferred. Here's a link to what I would buy today (I could not find a Radio Shack equivalent). For the battery cassette, I simply searched eBay for "8 AA battery holder." The Radio Shack equivalent is catalog number 2700387.
Wow! Thank you so much for the article on the Guest anchor light. This is exactly the kind of thing you can only get from Good Old Boat. We all had these, I still have one, and it frustrates me every time I try to use it. I can't wait to make the modifications the article outlines and put the light back in service. Like most people, I have a masthead anchor light, but I've always liked the tradition of hanging another light in the foretriangle. Also, in the creeks off the Chesapeake where I go, there are always power boats coming in late or leaving early in the dark. I've never feel like the masthead light is going to be seen.
—Jim Eaton, Pendragon, Alberg 35
Not Reaching Reality
I am coming to terms with the fact that I am the only person on the sailing earth that doesn't like "Reaching Reality" (mentioned in last month's The Dogwatch). Yours is the second or third recommendation I have seen. I couldn't stand it. By episode 3, I still didn't know their names and I didn't care. The whole thing seemed whiny and self-indulgent. I'm not a video creator or editor, but it seemed like the creator was trying to pass off shitty camera and editing work as "artsy" and I found it distracting.
I am a voracious digester of YouTube sailing content, particularly in the winter when I can't be on my own boat. I can recall a time 7 or 8 years ago (when sailing-themed video content online was still relatively rare) when I would watch all of it, good and bad. If this series had come out then, my opinion probably would have been different. I really wanted this to be good. The genre needs an infusion of something different. (If I see another 20-something couple, complete with the female in a skimpy bikini, frolicking on Pig Beach in Staniel Cay, I will scream!) But this isn't it, not for me anyway.
—Don Lincoln, Brighton, Michigan
Getting Better All the Time

Last month, I put it to readers about constructive feedback for Good Old Boat magazine. We've since won a bunch of Boating Writers International (BWI) writing awards for our work in 2020 (see From the Helm in this issue), but I believe there is always room for growth and improvement. Of course, I also believe that if it ain't broke…and we probably aren't too broken, given that I didn't get much in the way of constructive feedback. Regardless, my door is open for comments, year-round.
I promised a Good Old Boat hat or shirt to the reader I feature first. This month, I'm going to give John Pasch the first word… —Michael Robertson, Editor
***
I think Good Old Boat is pretty good; I've subscribed for several years now and I am very satisfied. I especially like articles in the Learning Experience column. I think the Short Voyages stories are interesting, when they aren't too sophisticated.
I would like to see an article about the legal issues a boater could encounter. For example, if I should happen to run aground and can't get the boat off and someone offers a tow, are they then entitled to my boat? Or, if my boat is taking on water and I have to get everyone off, is my boat then vulnerable to someone coming along and claiming it? What are the salvage rules? I often charter up on lake Superior and wonder what would happen to the charter if I had a problem.
—John Pasch, Lake Zurich, Illinois
John, thank you for the feedback. You and I are thinking on the same page. I commissioned a story about the legal side of recreational sailing a while ago, but I don't yet have a draft in hand. Time to nudge the attorney/sailor/writer—talking to you, Rob! So, the best I can say is stay tuned… —Michael Robertson, Editor
It would be fun to hear about women in the racing and sailing circuit. Also, how many ham radio operators out there? Keep up the good work; I read every word!
—Elizabeth Wille, Hershey, Pennsylvania
Thank you, Elizabeth. Like many magazines, most of what you see on our pages comes over-the-transom from writers (80%). That is to say that while I commission some work (see above), most of it comes unsolicited and I buy and publish it when I think it works. I don't know enough about racing, let alone women in the racing and sailing circuit, to describe the story we'd want, and I don't happen to have a relationship with a writer that I know knows about this world either. So, I'll put the word out here: if you or anyone else has an idea for a story in this vein, I'm interested. That's not a promise to publish, it's letting freelancers know I can see a story like that working for us. —Michael Robertson, Editor
The variety of subjects covered in Good Old Boat is amazing and interesting. I love the DIY articles, I love the design critiques with the comparisons to similar boats, I love the articles on designers, and all the other stuff. I can't think of anything else to suggest; keep up the good work!
—Len Lipton, Norwalk, Connecticut
I've been a reader/subscriber of Good Old Boat since its inception and I think it's the best sailing magazine out there. One suggestion: when you show a sail plan, particularly in the Design Comparison column, please show the boat insignia on the sail. Many of us like to identify boats we see out on the water and this would be helpful in learning them.
—Michael D Neben, Good Life, Catalina 30, Dana Point, California
Thanks Michael, I like this idea too. I'll talk to Rob Mazza, our technical editor who draws these boats and writes this column, about whether it's possible. You may start to see them. —Michael Robertson, Editor
I enjoy the Short Voyages column. As the owner/sailor of a trailer-sailer, I would love to see more attention paid to my type of vessel, more content devoted to boats under 30-feet long. I wish more of the magazine was devoted to practical hands-on/how-to articles.
I appreciate the Across the Bar pieces. Many are an overdue acknowledgment of the pioneers of our passion. (Though I've found that once one passes about 60 years old, such announcements have a distressingly proximate note. As Tom Lehrer once said, "By the time Mozart was my age…..he'd been dead for 17 years.")
—Steve Marshall, Toad Away!, 1974 Balboa 26 swing-keel trailer sailer, Los Angeles, California
Thanks for the feedback, Steve. It's a balance, but I assure you our interest in trailer-sailers is not less than other sailboats. Check out the feature story in this issue of The Dogwatch. And in the May issue of Good Old Boat, we've got a fantastic refit story from Ed Zacko wherein he tears apart his trailer-sailer, a Nor'Sea 27. And in the July issue of Good Old Boat, I'm running a great short piece from Zoran Glozinic about the brilliant manner in which he raises his boat off the trailer and pulls the trailer out from underneath. —Michael Robertson, Editor
I would like to see a serial story run in every issue. Maybe a new chapter in each issue?
—Robert Lucas, Sarasota, Florida
Robert, we're intrigued, and we talked about it, but it's not going to happen. We feel it would be a real challenge to line up the writer/writers for this. We're not sure our 6-issues-a-year frequency is sufficient for the concept. And something would have to go as we can't currently run longer than our 64 pages. Again, we're intrigued, but have to say no, for now. —Michael Robertson, Editor
My suggestion is that you include a new section in the magazine for Australian yachties to share their stories. I sail an Adams 12 and would love to hear other stories from Aussie boat people.
—Steve George, Ohana, Australia
Good to hear from you, Steve. I've sailed down under, up and down the Queensland coast—love it—but our Good Old Boat bailiwick remains North America. There just isn't room in our market for us to compete in the overseas sailing adventure space that other North American sailing magazines already control—talking primarily about Cruising World and SAIL. We love them, but our success depends on our focus on our niche. We are overjoyed for the subscribers we have in Australia and countries all over the world, it highlights the common appeal of much of our content.
—Michael Robertson, Editor
As the mainstream magazines move more and more into the land of the unaffordable, it seems the space Good Old Boat occupies is broadening. Our aging vessels need more and more maintenance, which in a good number of cases is performed by the owner. However, there is really no practical advice on how to replace fridge systems, or how to fix the head pump, or how to set the valves. In short, we need the information found in the no-longer-published Australian magazine, DIY Boat Maintenance, or the British publication, Practical Boat Owner.
Why not dedicate a portion of Good Old Boat to real technical issues, to repairs and maintenance. Surely this might also open up the magazine to a wider advertising base.
The recent article on epoxying holes through the deck, good interest, making a tiller holder, not so much.
–Bob Mann, St. George Island, FL
Thanks Bob. I edit these letters, so only I saw some of your additional content which makes it clear you are sincere and wishing the best for Good Old Boat. I appreciate that. And I'm confused. I feel like we are covering all the bases you're talking about.
Good Old Boat magazine featured the best article I've ever read on rebuilding a fridge/freezer compartment in the November/December 2016 issue. We've had many other stories about refrigeration before and since—all aspects of refrigeration. Fixing/rebuilding heads and all kinds of pumps. I can't say for sure we've had a story on setting the valves—I presume you're talking about an engine—but I'd be surprised if we have not, maybe it's time.
I freely and often run stories on topics we've already covered—it's hard not to—but I have to wait a few years at least. Because we aren't Modern Bride magazine. Those editors have it easy, their readership is constantly changing (their subscription renewal rates must be the lowest in the industry—assuming any brides are engaged long enough to subscribe). But if I publish a "Building a Bimini" story every year, readers will revolt. So, I feel like we're covering all the bases, but over a long timeframe.
Regarding not being into the tiller-holder story, that's understandable, there are probably few readers who share Drew's specific need to fabricate a tiller holder, and fewer who will try to follow in his footsteps—I know I won't. But I decided to publish that story because I learned a lot from it that I can apply to other DIY projects I may want to approach. I'll admit here that before reading that article, I'd never heard of Coosa board.
My goal is for readers to be entertained and learn several things from every issue, and it won't be the same things that entertain and teach each reader. As my teen daughters might say, "hashtag, balance." I hope we reach that balance for you. –Michael Robertson, Editor