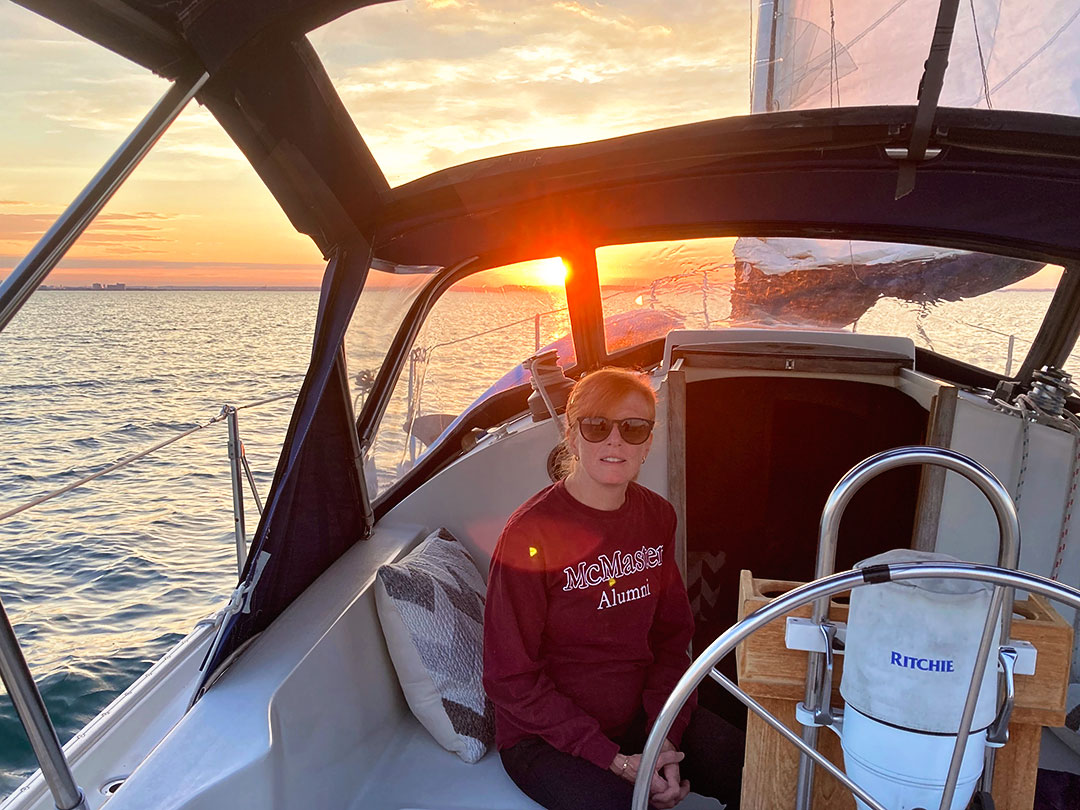 If your idea of sailing fun involves tacking rapidly into a strong wind, grinding away at your genoa sheets and crashing through the waves as you lead the way to the next buoy, read no more. This article is not for you. 
Do you love sailing, but your body is having trouble keeping up? Do your shoulders ache every time you try to hoist the mainsail? Does your back seize up when you try to haul in the sheets? Perhaps your acquaintances refer to you as the old salt. Are you reluctantly considering selling that treasured old sailboat, leaving the sport for good and taking up a more sedentary pursuit such as bocce ball? (Apologies to the bocce enthusiasts out there.)
Don't do it. 
This article is for you.
I have been an avid sailor most of my life. My sailing odyssey began as an experimental adolescent trolling the Shebeshekong River off Georgian Bay, Ontario in Sunfish then later Hobie Cat sailboats. Turtling the Hobie Cat on a particularly breezy day in rocks required this then younger enthusiast to swim the mile or so back to base camp to enlist help in righting the boat. 
This episode did not deter my passion for wind-seeking on the water in the least. I would go on to complete numerous CYA certification courses and nurture the yearning for further knowledge and experience. Over the years there would be bountiful hours spent refining these skills on different sailboats. I would marry Annette and sail Lake Ontario with my new wife aboard our first boat, a wonderful Capri 18. These early trips were slow, but equally gratifying as per the wisdom imparted. Later there was a Catalina 25 on which our first-born daughter — who had sea legs before she could walk — joined us for more travels on the lake. 
Eventually there would be four children and our beloved CS 30. The kids and I enjoyed many exhilarating sails with the rail buried and the knot meter displaying maxed out hull speed. And there were romantic sunset sails for just the two of us, years after the kids grew and became busy with other things. The pure joy of sailing was in our blood. I could not imagine ever not sailing. 
Then it changed. Unfortunately, over the years came the sad realization that father time was poking away at me. Old weekend warrior hockey injuries had caught up. My shoulders had been dislocated, separated and torn on more occasions than I cared to remember. A slew of other time-worn minor injuries combined to make working the sails more problematic than pleasant and the excitement of prepping for a trip to the boat had faded away. 
After careful deliberation, Annette and I decided we wanted to continue the boating life but no longer had the physical capacity to be sailors. Our CS 30 was sold, and we moved on to a powerboat. Our Bayliner 3055 presented us with its own learning curve — including docking in high winds. There is no keel on this thing! Yet, the boat was also extremely comfortable, and we learned easier methods are available for many of the tasks on board. The electric windlass made anchoring at the beach a breeze and refrigeration meant no more lugging along the cooler full of ice and cold drinks every time we came to the boat. 
But something was missing. The journey was no longer gratifying. Enjoyment arrived at the destination. The absent sound of wind in the sails, waves on the hull, birds singing, and fish splashing was unbearable. I longed for another sunset sail.
We talked. And we talked. And I did some research. And we talked some more. Annette was reluctant to give up the comforts of our powerboat and she was a little skeptical we could make a sailboat work for us. After outlining my plan, I convinced Annette that moving forward with the right sailboat was our best plan of action moving forward.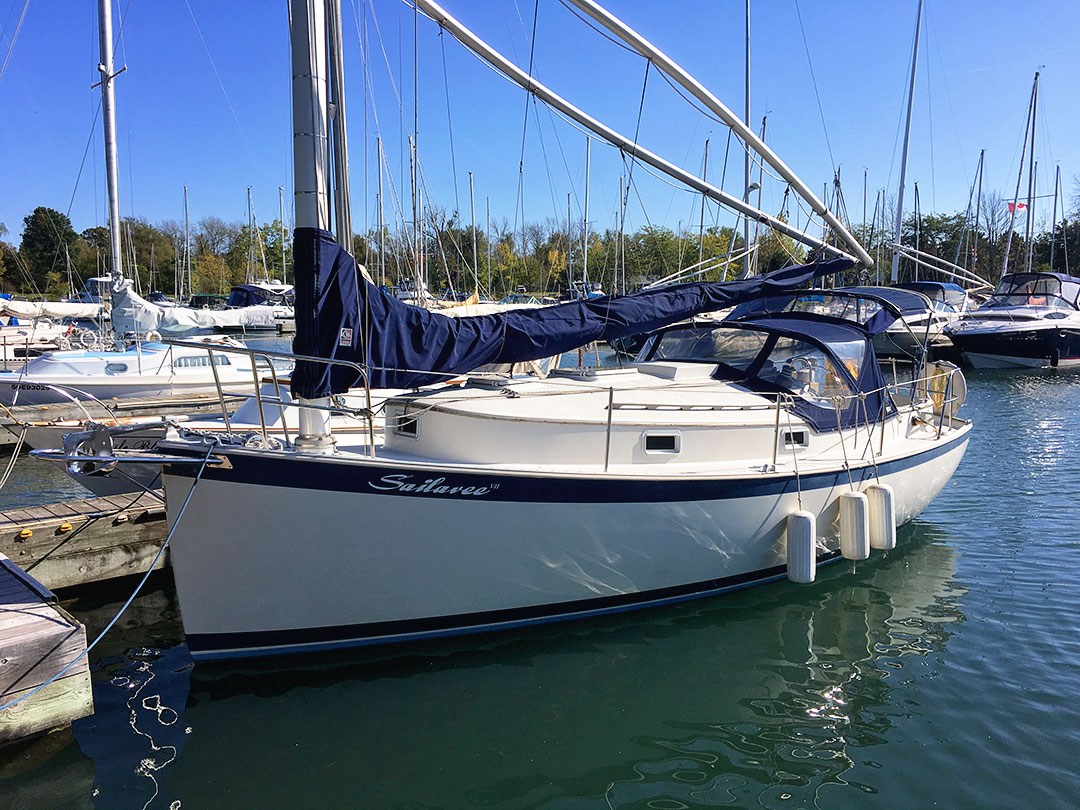 I proceeded with the decision to purchase a Nonsuch 26. The Nonsuch, built by Hinterhoeller Yachts in the 1980s and 90s, is a brilliant cruising catboat designed with the sole purpose to provide sailing pleasure to sailors, without all the work of a more traditional sloop. Easily singlehanded, with no headsail to tack, and clear of sheets in the cockpit, this cruiser is perfect for a boatful of non-sailors as well. 
We initially looked at the Nonsuch 30, which turned out to be a voluminous boat with classic lines. After viewing one on the hard, however, the expansive underbelly petrified me into believing there would be days and days of hull waxing and bottom painting ahead. We decided on the smaller Nonsuch 26 Ultra. This boat presented closely to our beloved CS 30 in general size and functionality (minus the aft berth). We settled on a lovely 1988 Nonsuch 26 Ultra named Sailavee out of Niagara-on-the-lake, coincidentally the former home of Hinterhoeller Yachts.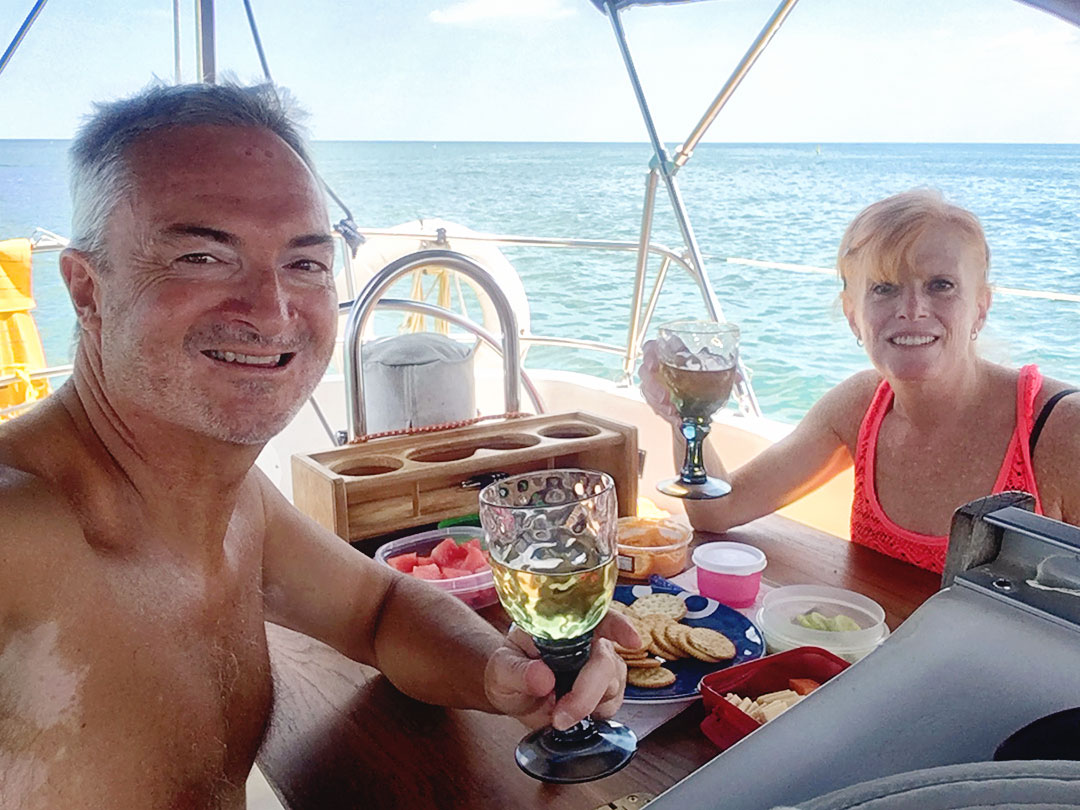 Ease of use and comfort on board, as sold to Annette, had to be in place. But there were further considerations, too. The remaining funds left over from the sale of the Bayliner were put to good use. The oven-stove was removed (we never cooked in the cabin) and in its place was installed a proper marine refrigerator-freezer. No more lugging that old cooler. Custom cockpit cushions were fabricated by a local provider. The halyard winch was swapped out for a Lewmar electric halyard winch. Raising the mainsail could not be easier. As the N26 is equipped with lazy jacks to hold the mainsail, I never need to leave the cockpit while out on the water. A Lewmar Pro Series windlass was substituted for anchor duty. Winch and windlass switches were located at the helm to ensure all duties could be completed by the captain alone. Reefing early ensures the angle of heel never reaches Annette's comfort limits. The freestanding mast and its ability to absorb the gusts more than traditional stayed masts further safeguards any heeling concerns.
We are now into our third season with Sailavee and could not be happier. Our re-entry to the realm of sailing has been for the best. Annette can sit and enjoy all the indulgences of an un-tasked crew. I even take the boat out myself in heavier winds confident in my abilities to safely manage this rig. I cannot hear my muscles groaning or joints creaking anymore. Perhaps the quieter groans and creaks are muffled by the resound of wind and waves. I am on the water and there is no better place to be.