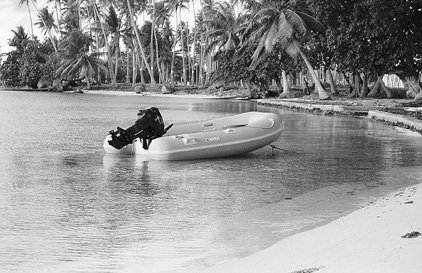 Check the pros and cons before you decide which tender is right for you
The age-old question of what dinghy is best will never find a universal answer. Each boating situation has too many variables to recommend a "one-dinghy-fits-all," but it is possible to list the advantages and disadvantages of each type.
Traditional dinghies
With a history predating the larger boats and ships they serve, hard-hulled tenders or dinghies have much to offer the recreational boater.
They are durable. Made of fiberglass or wood, a well cared-for dinghy will last as long as the boat she serves. Combating the tar or creosote souvenirs collected from wharves is not a problem for them; paint removers or solvents that could attack soft dinghies can be used with impunity. Their ruggedness extends to another common occurrence: being tied to a barnacle- or mussel-encrusted wharf piling results in mere scratches, whereas an inflatable would be shredded.
Similarly, a hard dinghy can be dragged onto a rocky beach, or scraped over a reef, without the catastrophic failure many inflatables would suffer. Tiny salt crystals wage an unseen war against an inflatable's seams, weakening and abrading them with each movement of the boat, while their fabric ultimately degrades from the ultraviolet rays of sunlight. Neither of these affects a hard dinghy's structural integrity in the least.
They are versatile. Their skegs, small keels, and sometimes centerboards, provide directional stability, dramatically reducing wandering, leeway, and sideways skittering. This important advantage is the basis for their multi-functionality, making them a joy to operate with any form of power: paddling, rowing, motoring, or sailing. Rowing through a chop from your anchorage to the public dock may take three times as long in a smooth-bottomed inflatable … and it may be impossible if a good breeze is lifting the nose.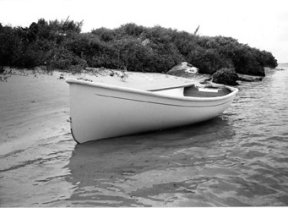 Better value
They are relatively inexpensive. Traditional fiberglass dinghies start at prices well below those of good-quality inflatables. With an indefinite lifetime, as opposed to the very finite five-to-10-year lifetime of inflatables, traditionals are usually the better value. However, handmade wooden dinghies can easily cost as much as an inflatable.
They're beautiful. There is really no comparison between the looks of a classic lapstrake sailing skiff and an inflatable. A skiff's timeless lines and graceful sheer bespeak generations of nautical tradition, while most inflatables are strictly utilitarian. The hard dinghy is often an aesthetic extension of the boat she tends; an impossible feat for an inflatable unless the mother yacht is a dirigible.
Versatility, durability, economy, and beauty. Can there possibly be any other attributes for this type of dinghy? Very definitely. In addition to everything else, they are (or can easily be made) unsinkable. Hard dinghies should have flotation built into their seats, bows, and/or gunwales. A hard-shelled dinghy will be safer aboard the mother ship during a blow if it is inverted and made fast securely. Its V-shaped or rounded hull will help press it down, while its rigidity prevents it from flexing and lifting to catch the wind . . . an inflatable idiosyncrasy.
One last advantage, small for some but large for me: my pets seem to prefer a solid dinghy. They balk at giving up the security of a larger boat for the squishy uncertainty of an inflatable. A minor point, but coaxing a sizable dog to shore for his morning ablution is not an option; it's a necessity, and cooperation is appreciated in foul weather.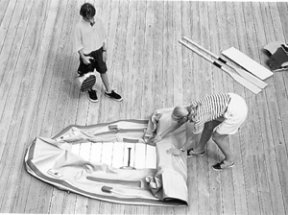 Inflatable dinghies
Despite the advantages of traditional dinghies, there are significant reasons for having an inflatable as your boat's tender. If there weren't, you wouldn't see a majority of yachts with them.
Inflatables are the hands-down choice when it comes to variety. Especially suited to mass-production methods, with all the attendant savings and compromises, inflatables are commonly made from polyvinyl chloride (PVC), neoprene rubber, and coated nylon. They can cost anywhere from $75 to as much as a sizeable yacht. They can carry one person on a still pond, or 20 people through fierce rapids, and they can weigh anything from five pounds to one ton.
They can have smooth bottoms, inflated bottoms, or rigid bottoms made of wood or fiberglass panels. There are more manufacturers, models, and retail outlets than you will ever find for traditional dinghies. If you're a comparison shopper, you'll be in heaven sorting through the endless choices among inflatables.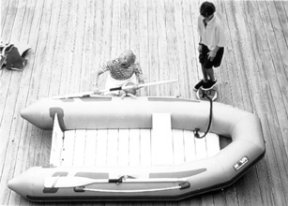 Inflatables have outstanding stability. Stand up in a traditional dinghy (if you can) and put half your weight on the gunwale. Or, try climbing aboard after swimming. You'll either be perilously close to swamping, or treading water as the dinghy turns turtle. Try the same thing in a modest eight-foot inflatable, and you can stand there all day. Stand there fishing, stand there handing bags of groceries aboard, or stand there off-loading small children. Inflatables are unbeatable when it comes to being safe and docile, as opposed to the tippy traditional types.
Inflatables have a large carrying capacity. Pound for pound, or per foot of length, inflatables can carry almost twice as much as traditional dinghies. This is a critical feature on smaller yachts.
Gouge-free
Inflatables are soft. If you do find yourself flipped into the water, a hard dinghy can seriously injure you in the capsizing. The inflatable will dunk you but not knock you out. The same softness will not mar your big boat's topsides while you are anchored, nor will it keep you awake by banging against the hull. Your deck or cabintop will be gouge-free if you carry an inflatable aboard during voyages.
Inflatables tow well. A traditional dinghy is a constant concern under tow. The bridle arrangement, the length of the tow line, and the dinghy's position on the stern wave are all critical. An inflatable placidly slides along in the wake, while the hard dinghy tends to hunt back and forth, slowing a smaller yacht. At worst, an inflatable will flip over when being towed in a crosswind. A hard dinghy can turn from a dinghy to a submarine if pooped, flipped, or filled with spray and rainwater. If you're lucky in those instances, you'll merely have some anxious shoulder-wrenching moments pulling a few hundred pounds of deadweight aboard after killing the engine and dropping sail. If you're unlucky, the slamming force of a diving dinghy can rip out your towing cleat, leaving it and dinghy to disappear in the stormy night.
Inflatables stow like no traditional dinghy can. Any tender, hard or soft, when lashed on deck or towed, is vulnerable to damage from weather, other boats, sunlight, and bird droppings. A pure inflatable, however, can be deflated and placed in a quarterberth or cockpit locker. For offshore work, this is the preferred method, as boarding seas can sweep a deck clean despite the best tie-down efforts. This portability also means your inflatable can go home with you after the boating season to be washed, repaired, and stored, thus extending its useful life.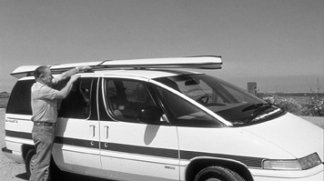 Double duty
Inflatables are versatile in their own way. They serve double duty as tender and life raft. Even full of water, they provide survival buoyancy. With an emergency abandon-ship bag, they can literally save the day. Inflatables also make luxurious freshwater bathtubs during summer rainstorms. Most inflatables are relatively lightweight, which means they can often be carried up a beach, rather than dragged ashore or tied to a dock.
There are also boats that attempt to offer the best of both worlds. These are the rigid-hulled inflatable boats, or RIBs. They have a conventional fiberglass hull with superb directional capability, plus inflatable air chambers along the sides that provide buoyancy and stability. Larger RIBs can have steering consoles, Bimini tops, and even radar arches. They can handle large outboards and safely attain speeds in excess of 30 or 40 knots. These boats carry large payloads and, with a cover to protect occupants from the elements, may just be the ultimate tender or lifeboat.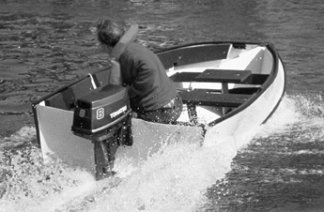 Yet, there are tradeoffs that prevent RIBs from dooming traditionals and inflatables to extinction. RIBs are more expensive than the other types. Significantly more expensive. They are heavy and require davits or some other lifting device. Because of their weight and size, most are suitable only for larger yachts. I'm aware of no RIB that can sail. With a rigid hull they give up the deflating and stowing advantages of inflatables. Nor, because of their large air chambers, will they ever have the pleasing aesthetics of the traditional tender. Still, would I have one if a magic genie offered? Absolutely!
Your dinghy can be a constant source of pride and satisfaction, enhancing your time on the water. It deserves considerable thought and research in the planning stages. In addition to reading the glossy ads and promotions, talk to owners of each dinghy type and, if possible, borrow it for a row or sail. Ask them about durability, maintenance, and any problems they've had. Finding the right one for you is part of the wonderful journey.
Resources
* Traditional tenders
Bauteck Marine Bauer sailing dinghies
888-228-8325
http://www.bauteck.com
Chesapeake Light Craft dinghy kits;
410-267-0137
http://www.clcboats.com
Dyer Boats/The Anchorage;
401-245-3300
http://www.dyerboats.com
Edy & Duff Fatty
Knees dinghies;
508-758-2591
Glen-L dinghy kits
562-630-6258
http://www.Glen-L.com
Porta-Bote folding boats;
800-227-8882
http://www.porta-bote.com
Trinka Dinghies-Johannsen Boat Works
800-869-0773
http://www.trinka.com
Walker Bay Dinghies;
425-402-7066
http://www.walkerbay.com
* Inflatable tenders
AB Inflatables
800-229-2446
http://www.abinflatables.com
Achilles Inflatables
425-353-7000
http://www.achillesusa.com
Apex Inflatables and RIBs
800-422-5977
http://www.apexinflatables.com
Avon, Bombard, Sevylor, and Zodiac
Marine Inflatables and RIBs
410-643-4141
http://www.avonmarine.com &
Caribe Inflatables and RIBs
305-253-4822
http://www.caribeinflatables.com
Novurania
561-567-9200
http://www.novurania.com
Polaris
604-534-5585
http://www.polarisboats.com
Quicksilver Inflatables (Mercury Marine)
920-929-5000
http://www.mercurymarine.com
Sea Eagle Inflatables
800-852-0925
http://www.seaeagle.com
Seaworthy Inflatables (BOAT/U.S.)
800-937-2628
http://www.boatus.com
What's more
The following specialize in inflatable boats, offering multiple product lines and valuable expertise:
Inflatable Boat Center
Portland, Oregon
503-235-2628
http://www.inflatableboats.com
Inflatable Boat Specialists
Ventura, California
805-644-6290
http://www.inflatableboats.net
Article from Good Old Boat magazine, May/June 2000.