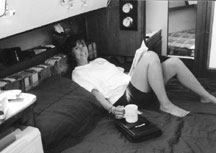 Spoil yourselves and get a really good night's sleep while aboard
Have you ever wondered what you have to do to get a boat with a decent-size bed? My wife, Cheryl, and I searched for six years for the perfect cruising boat. The number-one criterion was that it must include a bed we both can be comfortable on and thus get a good night's sleep.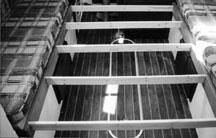 You might be imagining a pair of sumo wrestlers trying to crawl into the V-berth of a Catalina 22, but excessive width is not the issue. The problem lies in my height of 6 feet 3 inches. It seems that unless you're looking at something like a $250,000 Hunter 450 Passage with a palatial aft stateroom, you will be hard pressed to find a small or midsize cruiser with a bed adequate for a couple which includes at least one large person, especially if your budget dictates that you look only at older boats less than 40 feet long.
The standard land-based bed is approximately 76 inches or longer, and if you measure the king- or queen-size mattress that most of us sleep on these days, you will find it to be 80 inches or longer. But when it comes to berths in the average older sailboat, 74 inches is more often the norm.
Cheryl and I came to this conclusion: if you can't buy one, make one. On our last boat, a lovely 1980 Hunter 27, all the berths were inadequate, so we decided to make what we call "the Big Bed Mod." This entailed converting the saloon area, with its two opposing settees, into one large bed. This cabin arrangement is fairly common in boats of this size and smaller. It lends itself nicely to a modification of this type.
First we needed a way to span the distance between the two settees. Our Hunter had two pieces of teak trim to hold the settee cushions in place. I'll call these "side rails." The five new braces that span the center and support the middle of the bed I'll call "stringers." Some folks have made similar beds utilizing stringers with metal hooks on each end that hook on the top of the existing rails.
A few problems
I considered this method but there are a few problems, as I see it. The first is I like my interior wood to be varnished and to look good. Placing metal hooks on the rails repeatedly and then loading them with my 200-pound weight and my wife's weight (no, I won't go there, but you get the picture), these rails would definitely take a beating. I decided to rout pockets into the rails for the stringers to rest in.
When examining the existing 5/8-inch x 3 1/2-inch rails, I realized there was not enough wood to rout a pocket for a stringer that would be big enough to support the anticipated weight. My solution was to make new, larger, rails that were a little thicker (one full inch) and deeper (approximately 5 inches). I used mahogany since it is a wood that is similar to teak and, at least for me, much more available and therefore cheaper.
After the rails and stringers were in place, we measured the spanned area and cut a piece of 3/8-inch plywood to lie on top of the frame. I then cut the plywood in half, making two matching pieces that could be stowed when not in use.
The final step was to make cushions which fill in between the settees. For this we turned to our local upholsterer. He did a beautiful job and even found some outdated brown plaid that generally matched the original plaid used by Hunter when building these boats. The two cushions, along with the stringers, are easily stowed in the V-berth when not in use, and the two pieces of plywood fit perfectly under the existing settee cushions when not in use.
Cheryl and I took a two-week cruise to Long Island Sound last summer, and we slept wonderfully with all the comfort of home. This was no small feat, considering we are both spoiled rotten with a king-size waterbed at home. If sleeping onboard is something you endure, rather than enjoy, consider making a Big Bed Mod for your boat.
The Hunter 27 project came first and was such a success that Don did it all over again with the next, and larger, Hunter 33.
Article taken from Good Old Boat magazine: Volume 4, Number 6, November/December 2001