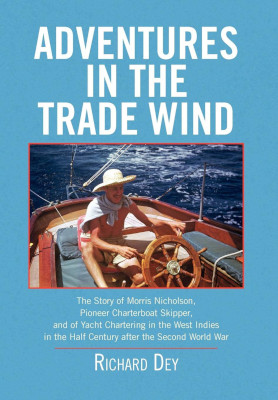 This is the story of pioneer charter-boat captain, Morris Nicholson, and of yacht chartering in the Caribbean since World War II. It is an incredibly rich topic, sure to attract sailors and wanna-be sailors alike. I have read many West Indies cruising guides, new and old, and a dozen or more cruising memoirs (the best: An Embarrassment of Mangoes) and know well Ed Hamilton's website historical sketches of the British Virgin Islands' charter story, yet Nicholson's story, as told by Richard Dey, is the most complete I've found. It is also one of the most frustrating.
Morris, a young lad running off to sea, answers a call in Britain to purchase a share of a 60-year old 80-foot wooden ketch and join other adventurers in taking it round the world. They made it to Spain, Morocco, the Canaries, and across the Atlantic to Martinique, where the conniving Captain went ashore and sold the boat out from under them. Marooned in the Caribbee, Morris made the best of it. He got passage to Castries, St. Lucia, and found work with another English émigré, mechanic and craftsman Bert Ganter. Morris ran boats for Ganter, helped get his marina at Vigie Cove organized, and became acquainted with charter yachts out of English Harbour, Antigua, which came regularly to Vigie Cove to have work done. He became acquainted with Gus and Jane Koven, who were building Eleuthera II, a 60-foot ketch, in Germany. Morris became her skipper for over thirty years, helping outfit her, and sailing her with the Kovens from Bremen, Germany, to the Med for a year, and eventually to St. Lucia.
The Kovens increasingly booked charters for Eleuthera, and Morris was kept busy after 1956 sailing well-to-do Americans around the Caribbean. This early chartering centered on English Harbour, Antigua, where retired British naval commander Vernon E.B. Nicholson and his family (no relation to Morris) had started a charter business with their 70-foot schooner Mollihawk in 1949. They soon had a flotilla of charter yachts, skippered and owner-operated, sailing out of English Harbour. Eleuthera was based for a couple of years there as a member of the Nicholson charter fleet, and in 1959 Morris won the first yacht Antigua yacht race — officially the "Guadalupe Channel Race" — which morphed into the now-famous Antigua Race Week the following year.
Adventures in the Trade Wind takes readers on a sprawling passage through the post-World War II West Indies. Landfall is made at Grenada, Trinidad, Panama, the Windwards and Leewards, Cuba, the Bahamas, the Virgin Islands and more — the breadth of the Caribbean. I found myself immersed in the flavor of the region and its people, intrigued by a very good history of bareboat chartering in the Virgin Islands, yet annoyed by the telling of it all. Quite simply, Dey has not mastered how to tell someone else's story, for his voice and that of Morris Nicholson collide repeatedly and convolute the tale. Too often Dey is rambling and distracted. In the chapter "Out of Bequia," for example, he splices together seemingly unconnected vignettes – a rogue wave incident, Morris's search to find the bones of Enid, the yacht that originally brought him to Martinique, and an observation on smuggling — all quite separate from the meat of the chapter — bareboat chartering in the Virgin Islands. And, when one goes to the index to try and locate places, people, and events you know are contained in this jumbled landscape, they as often as not are not to be found.
All this said, however, Richard Dey has assembled a vast amount of material from his interviews with Morris Nicholson and from his wide reading. His bibliography is an excellent starting point for digging further, and his chapter notes, though few in number, contain gems of information. It is a book you'll pick up again, despite any aggravations you might find with it, because it is a heartfelt and truly rich story.
Adventures in the Trade Wind By Richard Dey (Offshore Press, 2009; 329 Pages;)