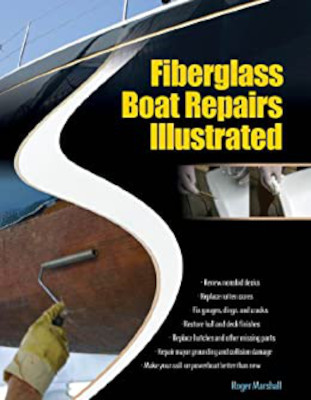 Admittedly, I'm not what you'd call a "hands-on" kind of guy. But in the eight or so years that I've owned Tortuga, my 1969 Westerly Centaur, I've become handier than I ever thought I'd be, and I've enjoyed working on my boat more than I ever imagined I would. Apparently you can teach an old dog new tricks; it just takes a little longer. I've done some minor fiberglass repairs on my boat, and have several books on the subject, but when I was asked to review Roger Marshall's Fiberglass Boat Repairs Illustrated, I thought it couldn't hurt to have another resource. I wish I'd had this book a few years ago.
Fiberglass Boat Repairs Illustrated is made for guys like me. There are nine chapters in all, covering everything from cosmetic repairs like gelcoat restoration and repair and renewing non-skid surfaces, to identifying and repairing major structural damage to hulls, keels, rudders, decks, etc. And each chapter has plenty of high-quality color photos worth tens of thousands of words that will make almost any job at least seem less daunting than one would imagine. For example, chapters 1 and 3, "How Fiberglass Boats Are Built" and "Materials, Tools, and Basic Techniques Used," respectively, are practically encyclopedic. Both chapters clearly show-and-tell materials, tools, safety equipment, procedures, and various products from a variety of suppliers, including WEST System, Interlux, MAS Epoxies, and System Three, to name a few. Marshall also explains the different applications of each item and its cost-effectiveness dependent upon that application. In short, he's taken a lot of the guesswork out of what to use, and when and where to use it. I think the two chapters should have been run sequentially, but that's a minor detail that won't detract in any way from the usefulness of the book. The remaining chapters give detailed descriptions, and more of those photos, of any kind of repair job you're likely to run into.
Fiberglass Boat Repairs Illustrated is a comprehensive, easy-to-use reference for anyone who owns a fiberglass boat, be it sail or motor. We never know what we'll have to repair, and this could prove to be an almost indispensable resource. No matter what books you may already have on the subject, I believe that if you were to invest in a copy of Fiberglass Boat Repairs Illustrated you would not be disappointed.
Fiberglass Boat Repairs Illustrated, by Roger Marshall (International Marine/McGraw-Hill, 2010; 184 pages)