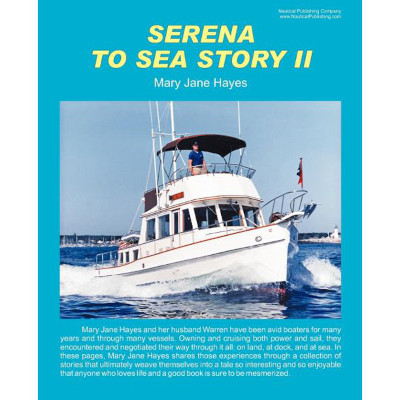 The work of Mary Jane Hayes (magazine covers, photo spreads, and articles) has appeared dozens of times in the pages of Good Old Boat. Now she has published the book that explains how she captured those images and the significant cruising events that were her inspiration. Called Serena to Sea Story II, this book tracks the evolution of Mary Jane and her husband, Warren, as boatowners and East Coast cruisers starting in 1969.
Mary Jane has always had a gift of observation and a way with words. She was able to find the beauty and the humor in scenes around her and to capture each event in words and pictures so eloquently that others are transported there to share the experience. Over the years as the wife of an avid boater, Mary Jane has been blessed with a rich pageant of water scenes and shoreside activities to describe with her pen and camera. It breaks my heart to report that she died in early January soon after this book was published.
"Sea stories almost write themselves — that is if you're receptive and have a pad and pen handy," she tells her readers in this book. "All writers have an almost compulsive need to record. To see something clearly or to feel something deeply is to wish to express it. Whenever anything catches my eye, stirs my heart, or bubbles up from the subconscious, I write it down … Since the sea is the core of my husband's heart and soul (after his family) and central to our relationship, it was inevitable that I would write about it."
The things that stirred Mary Jane's soul were the ordinary sights other sailors take for granted: "I love the sight of a sailboat romping by itself in a brisk breeze on an otherwise empty bay. I love still waters, endearing children, and their patient parents enjoying the myriad aspects of aquatics, and "old salts" with their weather-beaten visages and mischievous grins. Dogs of every description aboard any kind of vessel are a continual visual feast. So are dinghies, tethered willy-nilly at docks; the doughty forms of tugs and other workboats; and on it goes … the sea heaving up an endless procession of memorable and fascinating images to admire and record."
If you're an East Coast cruiser, like Mary Jane and Warren, you'll particularly enjoy reading her descriptions of places you've visited as she sketched the highlights of their cruises in colorful detail: "Twilight descended on a Cuttyhunk bathed in peach and gold; sunset giving way to a night so calm and bright we might have been anchored in Bethlehem on Christmas Eve." Or "As if to make up for her misbehavior, Nature, in both Sakonnet Harbor and Westport, fashioned sunsets so splendid we would have liked to frame them and send them home as postcards." Or "How we relished this cruising country! To the east, we knew, lay Falmouth, which had amazed us on a previous trip with its numbers of boats tucked into what was essentially a finger of water, so many large powerboats to either side of the harbor they seemed to face each other like the dancers in a reel."
So, if you cherish the same cruising country … if you want inspiration that comes of seeing ordinary scenes made extraordinary and new … if you cherish cruising with a woman who had a magic touch for description, get the book and join Mary Jane and Warren as she reminisced on their adventures afloat.
Serena to Sea Story II by Mary Jane Hayes (Nautical Publishing Company, 2009; 200 pages)