Memoir of a Sailor's Voyage in a Bygone Era
San Juan, Puerto Rico. My husband Tom and I and our crew member sit at outside tables in the old city. We have cold drinks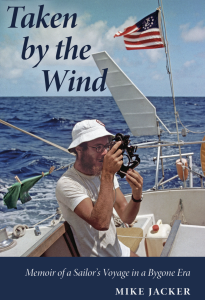 before us and she is looking longingly at two young American males who just entered the square. I can see their disregard hurts her but I want to say, "Don't bother, it'll just be trouble."
But I don't, because even though I am only 10 years older than her, we inhabit different sectors of the cruising world. I have my own boat and modest means to make a go of it. She is making her way by hopping from boat to boat.
Similarly, Mike Jacker's book Taken by the Wind: Memoir of a Sailor's Voyage in a Bygone Era, is about heading out on a post-college cruise in the 1970s when he and his buddies were that kind of carefree young sailors. In a twist of fate, Jacker is also a college classmate of mine who reached out to see if I would review his book. I was non-committal as always and said I had to see it first.
When Jacker set out there was no GPS, no regular radio net, no sat phone. He didn't have access to ocean weather reporting. He didn't have refrigeration or an autopilot.
In many ways this type of barebones cruising is indeed of a bygone era, though it's probably safer to say that barebones is relative to the options of the time of cruising. My husband and I set out in the early 1990s without GPS and with unreliable refrigeration. We did have a marine radio which meant long distance weather forecasting and communication with other boats, neither of which was available to Mike and his crew aboard their 30-foot boat, Rhiannon.
Jacker and his friends don't make it easy on themselves, starting out in August to sail south in the western Caribbean, and they are on a time schedule, having planned this as in interlude on the way to assuming full-time careers in medicine and law. But they make it to Panama where they encounter the full force of chaos and animosity of a country eagerly throwing off American influence and out into the South Pacific.
As Jacker joins the Coconut Milk Run his tale becomes familiar. It is one experienced by so many cruisers who every year make this passage. Though Jacker talks about his as a bygone era, in reality, once crews escape land and fling themselves and their boats at the truly open Pacific they are responsible for their own fates, no matter how much technology changes.
Jacker tells his tale well, and Taken by the Wind's many photos are printed onto the pages they illustrate rather than isolated in a separate section.
Like all cruisers who eventually turn back, Jacker faces the reality of homecoming. It's a tribute to his book that he conveys nostalgia not just for his trip but also for mine. Or yours.
Taken by the Wind: Memoir of a Sailor's Voyage in a Bygone Era, by Mike Jacker.