A mission to meet a circumnavigating friend takes an unexpected turn.
Bill Norrie had been singlehanding Pixie, his Bristol Channel Cutter 28, for nearly 90 days, sailing from Christchurch, New Zealand, to Victoria, British Columbia. This passage was the home stretch of a yearlong circumnavigation.
And what a last leg. After suffering a severe knockdown, Bill had been using a transom-mounted generator to charge his batteries since saltwater had seized the diesel's starter. Although Pixie was well equipped with electronics, including an AIS transceiver, Bill was approaching British Columbia with low batteries and limited communications. Friends and family ashore had only a satellite tracking device to follow Pixie's progress.
Bill would also have to transit the Juan de Fuca Strait, a 60-mile-long body of water separating Washington from Vancouver Island that runs eastward towards Victoria from the Pacific Ocean. At 15 miles wide, the strait is notorious for strong westerly winds and extended calms. Strong currents are common, with the eastern end experiencing up to 6 knots during large tides.
I'd known Bill for several years and had helped him prep Pixie for departure, and I thought he would appreciate an escort into his home port of the Royal Victoria Yacht Club, Cadboro Bay, near Victoria. I also thought that with his engine kaput, a tow might be useful when he transited Juan de Fuca Strait's busy commercial traffic lanes.
So it was that on one pretty morning, I eagerly departed my home port of Sidney aboard Natasha, our Islander Bahama 30, and headed for Sooke Harbour to await Pixie, due to sail by sometime the following day. There, I met John and Marg Green of Sauterelle, a Farrier 31 trimaran. Longtime friends of Bill, they had the same idea of being Pixie's welcome party.
Due to calm winds but roiled seas, it took Pixie three days to finally pass by Sooke Harbour. Having calculated his timing, the Greens and I left the harbor together, and after only a few hours of patrolling in 15-knot westerlies on a sunny afternoon, we saw Pixie appear out of a distant fog bank flying poled-out headsails. Bill had no idea that anyone had come this far into the strait to greet him, and as he neared, a broad smile came into view.
By late afternoon, our three boats were sailing east towards Race Rocks, the turning point towards the Victoria waterfront. A cool breeze blew over our sterns and the afternoon sun kept us warm. When the crimson sunset faded, darkness crept over the eastern horizon.
Race Rocks, a small island surrounded by dangerous reefs and marked by an historic lighthouse, is about a half-mile off the Vancouver Island shore. Victoria lies 10 miles beyond. The area is notorious; here, Juan de Fuca Strait broadens into a more open body of water. Race Passage, a narrow channel between the Race Rocks lighthouse and Vancouver Island shore, is known for strong, wildly turbulent tidal currents. And when Race Passage is rocking, the strait outside of Race Rocks is never much calmer.
As we approached in the dark, Race Passage turned, as expected, from a favorable afternoon flood to a 4-knot ebb. We decided to escort Bill outside of Race Rocks, seeking more sea room and hopefully less opposing current. There was no talk of retiring to Sooke Harbour; the clear skies and easing winds were most benign. Thick fog was forecast to form after midnight, but we presumed that we would be at our destination well before then.
John and I discussed towing options should the wind evaporate completely. All three skippers had many years of sailing experience, both coastal and offshore, and the conditions seemed perfect for getting home.
I had a chart plotter and AIS transceiver aboard Natasha. Aboard Sauterelle, John and Marg were using a chart plotter with an AIS receiver on a cell phone. Aboard Pixie, Bill had insufficient battery power to keep any instruments powered up; he hoped he could keep his navigation lights operating—this he communicated to us in a weak, final VHF transmission. Neither Natasha nor Sauterelle was equipped with radar. Pixie had radar, but no power to use it.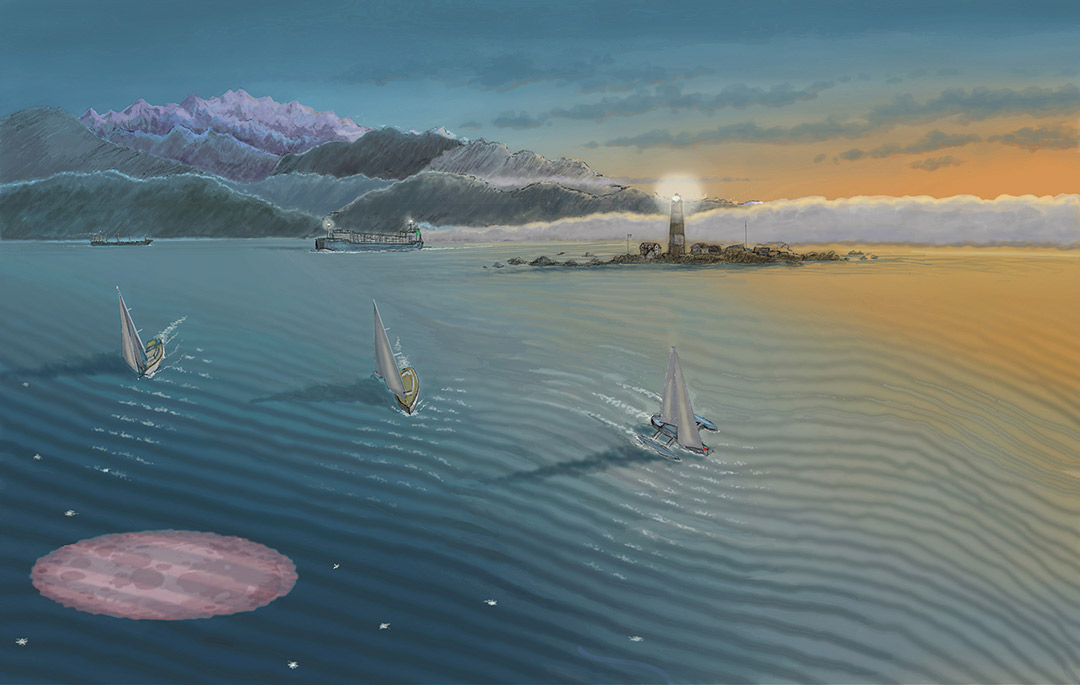 At about 8 p.m., the orange glow of a full moon rose above the eastern horizon, a canopy of stars shining overhead. Contrary to the forecast, westerly winds had picked up and were soon steady at 20 knots. Though welcome, the wind was blowing against a 3-knot tidal current, and the results weren't pretty.
I was running Natasha hard on a very broad reach, sailing at over 7 knots through the dark, whitecapped water. Yet even when peaking at 9 knots while surfing down some of the larger waves, Natasha was covering only 3 to 4 knots over the bottom. My neighbors also surged through the short, steep seas in the darkness, running lights clearly visible.
Ten miles to port, the bright glow of Victoria's city lights beckoned. We were all making a compass course that Bill had relayed just before his VHF died, one that would have us crossing inbound and outbound deep-sea traffic lanes, where vessels are controlled by the Canadian Coast Guard Marine Traffic Services. Despite a nagging concern about encountering freighter traffic, I believed that our small cluster of boats, clearly identifiable because of Natasha's AIS transmitter, wouldn't be at risk in this large body of water.
John and I were unable to communicate with Bill; we were simply following him. And he was aimed for home. Sauterelle was just ahead of me to starboard, Pixie further ahead and to starboard of Sauterelle. Three little boats in echelon.
And then the fog rolled in.
When I saw the lights of Race Rocks disappear astern, I warned John by VHF. I could see Bill in the moonlight on deck removing his foresail poles, presumably to allow more flexibility in maneuvering under sail. Then fog rolled over Natasha and everything disappeared, except for the reflected glow of my own nav lights. The air temperature plummeted, and condensation covered my glasses and the chart plotter.
Natasha's sails began slamming in gusts that rose well over 20 knots, and quartering seas began throwing her about. That's when the outhaul on the mainsail snapped, and Natasha's loose-footed main lost all shape against the mast. The boat heeled ponderously under the pressure of the gusts.
I released the mainsheet and turned to port on a broad reach. I was hanging on to the wheel, trying to maintain a compass course as Natasha rocketed down ever-steepening seas. The VHF crackled and I heard John calling from Sauterelle to say that he had lost sight of Pixie. He added that they were in trouble too, that when dousing the foresail, the halyard had let go and the sail was under the boat. With little forward motion, he was trying to get it back aboard.
My immediate fear was of a collision—with Sauterelle, or Pixie, or a ship. I realized I was experiencing one of the few times in my sailing life when I genuinely feared for my safety. I hauled the wheel further to port onto a beam reach, away from where I thought the other two boats should be, and the mainsail continued to slam against the mast.
From experience sailing these waters, I knew that fog banks typically streamed by in Juan de Fuca Strait and rarely turned the corner towards Victoria. I maintained my course to port, towards the shores near the Victoria waterfront, seeking some protection from the strong wind and high seas and hoping to improve visibility if I could evade the fog bank. I strained to read the bright chart plotter screen through glasses covered in salt spray blowing past the cockpit from the bow. I couldn't slow Natasha down; I needed boat speed to escape the current pushing me back towards the reefs of Race Rocks.
After a very tense hour racing through fog as fast as Natasha could go, handicapped by her mainsail, I suddenly sailed into clear night air. The entire Victoria waterfront, still over 5 miles away, twinkled. I called Sauterelle and told John I was in the clear. John answered, letting me know that he had fought the sail back on board and was sailing in fog, turning in my direction. Neither of us had seen Pixie.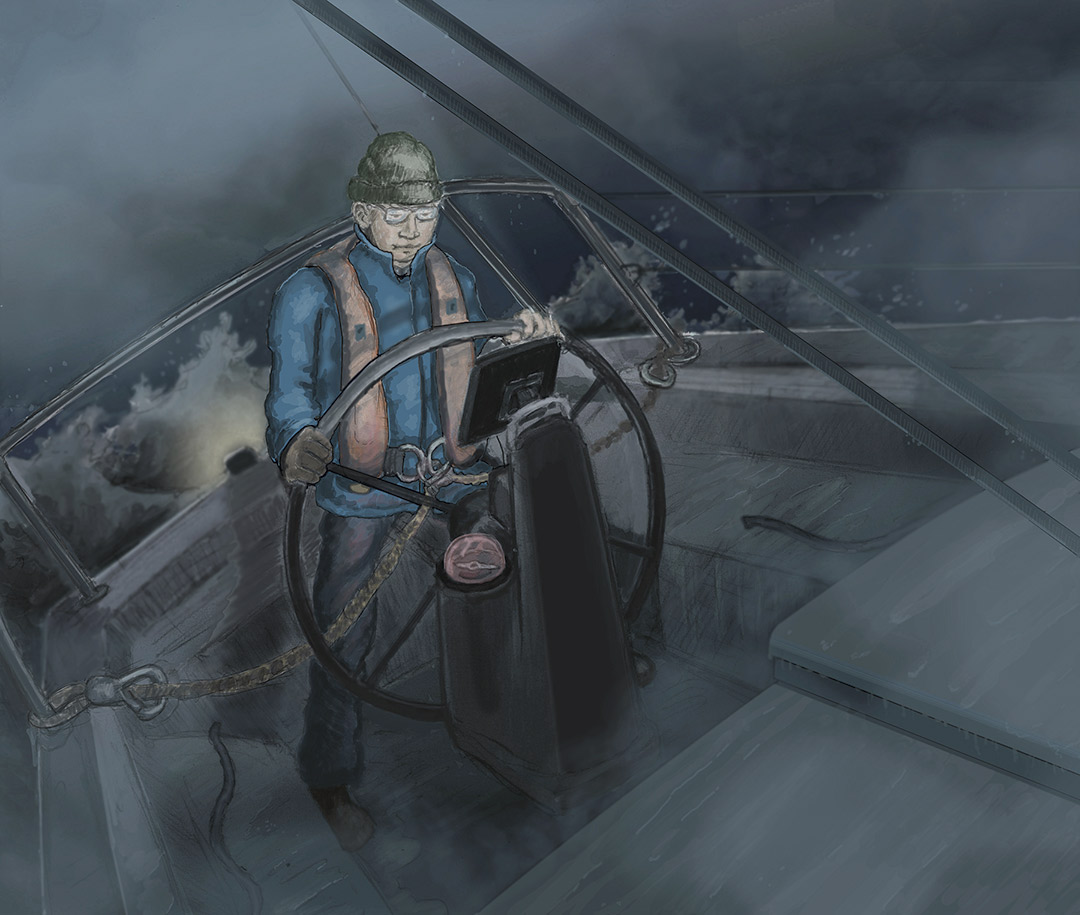 Bill was a seasoned ocean sailor and I believed he would take prudent action, likely steering Pixie on the last known compass heading towards the original destination, Cadboro Bay. However, I knew Pixie had no navigational aids and, potentially, no navigation lights. Bill would be crossing the traffic lanes blind, depending on deep-sea vessels to locate and avoid him using radar. The AIS on my chart plotter showed traffic in both directions.
As conditions in the clear air moderated, I repaired the outhaul and got the mainsail back under control. Then I hove to and contacted Victoria Marine Traffic Services on VHF to learn whether they could identify Pixie on radar. They could!
The operator gave me a position about 5 miles to starboard and said that Pixie appeared to be nearly stationary. The operator reported multiple deep-sea vessels nearby that would be using the restricted sea lanes and expressed concern about Pixie's safety. He asked me to contact the Rescue Coordination Center (RCC) by cell phone.
I briefed the operator at the RCC on the situation. When I said that I was headed to Pixie's location to assist, perhaps to tow Pixie to safety, I was advised—firmly—to turn around and continue to the original destination of Cadboro Bay, not to risk becoming a secondary problem.
Feeling somewhat slighted, I recognized the situation from an outside perspective and started sailing towards Cadboro Bay. The RCC was sending the rescue vessel Cape Calvert to the scene and they let me know that Pixie was now in the center of the inbound traffic lane. I relayed the information to Sauterelle and we agreed to meet in Cadboro Bay.
It seemed like hardly any time had passed when Cape Calvert roared by Natasha, steaming into the fog bank. When I later heard from the RCC that Pixie would be towed to the Canada Customs dock in Victoria Harbour, John and I altered our courses to Victoria. It was just after midnight before Natasha and Sauterelle were tied up safely in Victoria's Inner Harbour.
In the clear dawn of the following morning, John, Marg, and I reunited with Bill at the Customs dock. While enjoying his first coffee in a month, Bill regaled us with his tale of the night before, of reducing sail and retiring below decks, only to be startled by the deafening blast of a ship's horn and dazzled with white lights as the Cape Calvert loomed over his tiny vessel in the fog. At Bill's invitation, a Cape Calvert crew member climbed aboard and helped secure a towline for the 10-mile tow to Victoria Harbour, arriving safely before 2 a.m.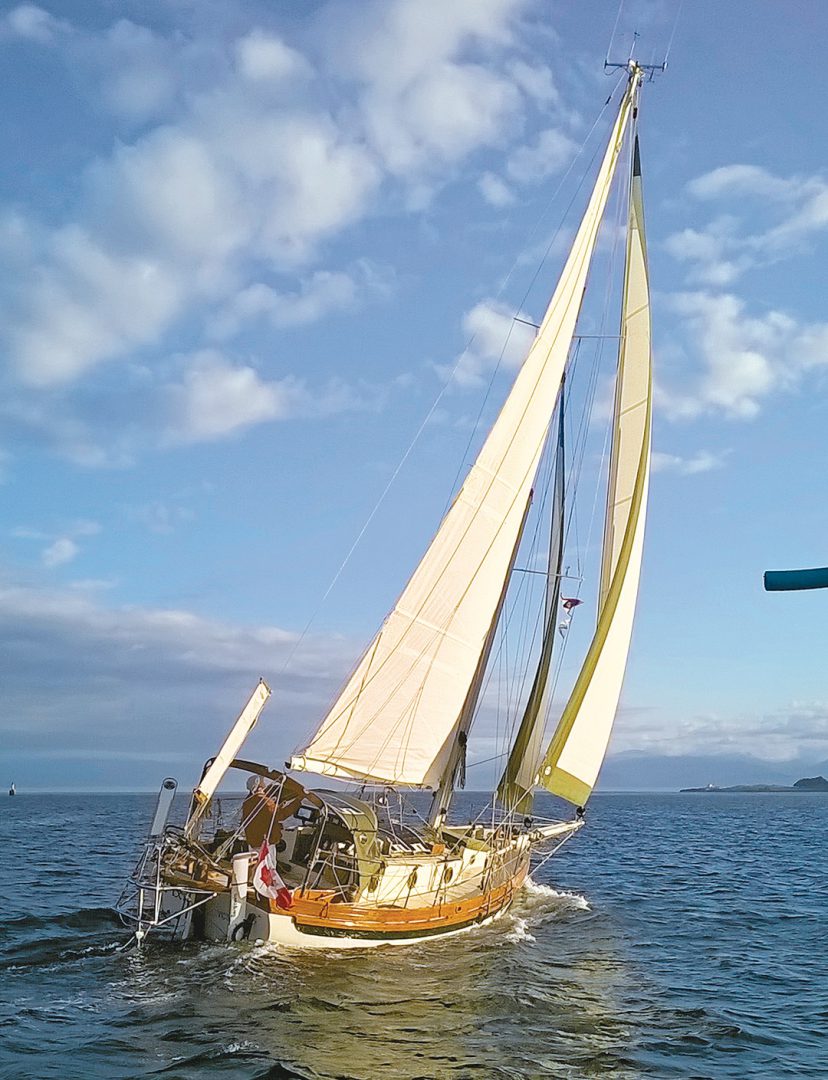 Canada Customs officials arrived at the dock and welcomed Bill back into the country—no need for a 14-day COVID-19 isolation period! With Sauterelle as escort, I was soon towing Pixie in flat water around the Victoria waterfront on our way to the Royal Victoria Yacht Club. Arriving under tow may have been a bit of an anticlimax following a year-long solo circumnavigation, but Bill couldn't have been more pleased.
The takeaway
What could I have done differently to avoid putting ourselves and rescue services at risk? Having sailed these waters before, I should have been better prepared. This was not a planned event, and perhaps it should have been. I should have developed a worst-case or what-if plan and somehow relayed that to Bill aboard Pixie, by hand or throw-bag, before we lost daylight.
Better yet, I could have tossed a handheld VHF radio to him. With that, we could all have turned towards the Victoria waterfront with the arrival of the fog, sailing out of danger. The core of our problems was the inability to communicate with Bill, compounded by the unexpected and adverse conditions.
We knew that fog was predicted and should have given more consideration to stopping at Sooke Harbour to wait for better conditions. The homecoming was eagerly anticipated and certainly colored our decision-making; it was easy to decide that we would be in port before the fog was due. It wasn't a bad decision necessarily, but giving consideration to alternative scenarios would have been prudent.
When the fog enveloped Natasha, I should have immediately contacted Victoria Marine Traffic Services or the Canadian Coast Guard to apprise them of the deteriorating situation with Pixie. With relayed radar guidance, I may have been able to stay in sight of Pixie. But soon afterward, I was struggling with my own safety and that avenue just didn't occur to me. (A big thank-you went out to Canadian Coast Guard services for their professional and timely response.)
I wasn't prepared for the conditions we encountered and should have expected. It was a valuable reminder of the dangers of the sea, even when sailing in local, familiar waters.