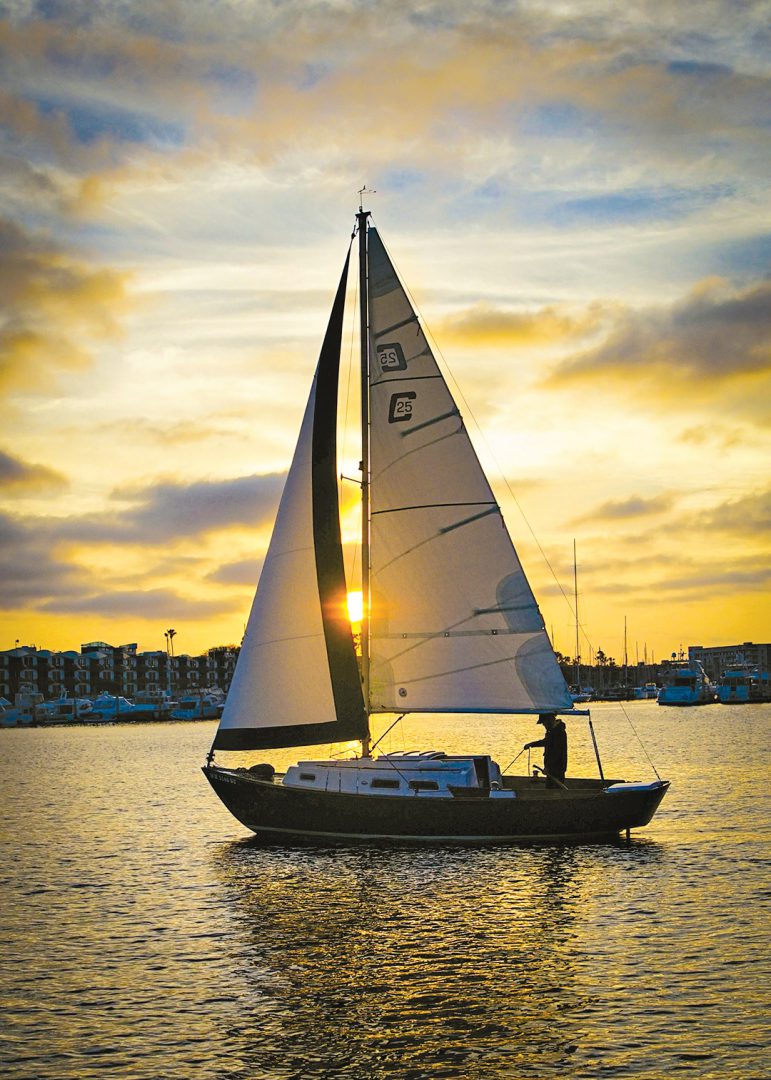 Love ruins everything, until the right one comes along.
I grew up with a sailboat because I have a big brother. Steve is five years older than me with a can-do attitude and an engineering mind to match. He built the forts and fixed the bikes; I played with them. So when family friends gave big bro an ailing mid-century catamaran in the early '90s, I was the lucky sailor.
Our summer place was on Bois Blanc Island, a sparsely populated, dusty piece of paradise on the eastern wing of Michigan's Straits of Mackinac. To call it a cabin is a stretch; it was an old mobile home our parents brought over on a barge in the mid-'70s. But Lake Huron was a stone's throw. The end of our gravel driveway opened on an expanse so big it looked like an ocean.
That first summer with the boat, my brother patched the sails and rigged some lines. From that day on, I was hooked and spent every minute I could on the water, tacking along the island's cedar- and birch-lined coast with a sense of wonder only kids enjoy.
I was about 10 when a neighbor let me use his Snark, an 11-foot dinghy that would flip and turtle if you so much as looked at it. I loved that little boat. Then, a couple of years later for 50 bucks I got a Scorpion, a 14-foot Sunfish knockoff with a gash in the hull that we "repaired" each year with kitchen caulk until the summer she sank. RIP. I loved that boat too.
But there's one sailboat that really had my heart. Blue Moon was a 21-foot sloop with salty lines that spent summers on a mooring and provided a picturesque backdrop to our secluded little bay. The boat belonged to Jerry, whose son, Ben, was my best bud. Jerry had a beard, smoked a corncob pipe, and listened to Creedence. Over the years, I watched in awe as he waded waist-deep in the water, launched his dinghy, then shuttled out in the waves to Blue Moon before disappearing into the horizon. I loved all of this. Most of all, I loved the way Jerry loved his boat.
But of course, I was just a kid, then. And, anyway, it was all a long time ago.
When I move to California, these memories are behind me. I come to LA for grad school, but stay, get married, and begin to raise kids. And while Emily and I love the Pacific Coast, I all but let go of the possibility that I'll ever be that kind of sailor—neither the kid I once was nor the adult I thought I would become.
Then, one day, I suffer an Achilles tear that seems to confirm my emerging place in middle age. The week of my surgery, a global pandemic upends the world, so for the next few days I lie in bed and make a sport out of balancing an elevated leg on a teetering stack of books, pillows, and kids' toys. I'm perfectly unhappy until I see a YouTube video of Sam Holmes singlehanding a 23-foot sailboat from LA to Hawaii.
I watch and rewatch that video; I show it to Emily; I forward it to friends. A person in my state should really get a therapist, but instead I begin to seriously consider getting a sailboat. "Life is short," I tell Emily. "Whatever it is we thought our lives would be about, we need to start doing that stuff now."
I have a flair for the dramatic. Emily's learned not to take my big ideas seriously until I take them seriously myself. But, this time I'm for real. "I think it makes a ton of sense," she tells me. "You've been talking about it for years. Let's get you a sailboat!"
If all I had was a dinghy, that would be enough. Then I start looking at used sailboats online. Here's a 40-footer on eBay for five grand. Here's a free, double-masted schooner. I forgive myself for going down these rabbit holes. I tell Emily that from now on, I'll focus on practical, local boats in Southern California…and the West Coast…and, OK, maybe British Columbia.
Over the spring, I enjoy long phone calls with friendly sellers across the state. I spend countless hours on blogs and YouTube. And, late at night, when the family's asleep, I form a habit of sneaking back into the living room to pore over a web browser where no fewer than 100 tabs are open to all sorts of sailboats. This one's great but needs sails; this one needs rigging; and what about the chainplates? Wing keel, fin keel, or full keel? And what if we decide to live aboard, grow our hair down to our butts, homeschool the kids, and travel the world as a floating group of family singers?
"What?" Emily says.
"Nothing," I say.
The search for a sailboat expands my knowledge, but it also increases my awareness of all the potential pitfalls of owning a boat: the costs, the upkeep, the critical questions I should—but definitely won't—ask when I finally find the right boat. As my anxiety grows, it gnaws away at my enjoyment. And so, by early summer, I'm awash with worry about the boat I haven't found but may at some point buy. And while I really need some emotional support, I also recognize that this whole sailboat scene is way too bougie to earn me any real sympathy.
But, I do find some solace. I'm on my third phone call with a guy up north who's got a Catalina Capri 22, 30 years' experience, and a voice like a children's author that's calming my boat-buying jitters. "I've been there," he tells me. "In my experience, you can spend forever looking for the perfect boat. But, at a certain point, you get a sailboat and go sailing. The rest you work out along the way."
Well said.
The rest of the summer I skip back and forth across Southern California to see boats. Masked up, kids in tow, I check out a Catalina 22, a Pearson 28, a Cal/Hunt 24, and a gorgeous Nonsuch 26 that really grabs my eye. I learn a lot from these experiences, both about sailboats and about myself. "We're not going to get one, are we?" my 6-year-old blurts as we step off a 25-footer in San Diego. "All you do is look and look, and you never buy!"
Kids.
Back at the car I kneel down and hug my son. I tell him I swear I have no idea what he's talking about.
It's pretty simple. Some sailboats speak to me, others don't. In my head, I know all the logical reasons for getting a newer boat; but love isn't logical; love ruins everything. And by October, I've come to grips with the fact that I have a type. I fall hard for the vintage designs of Rhodes and Alberg with their teak, narrow beams, and low freeboards. The attitude and aesthetic speak to me. And so, when Emily echoes the same, I know we're onto something.
At Oxnard's Channel Islands Harbor, there are two Cape Dory 28s for sale. One is too expensive and the other is riddled with leaky hatches, bad seacocks, old wiring, and some corroding backing plates that genuinely scare me. After seeing the boats, Emily and I head to the beach to debrief. We stand ankle deep in the water and watch the kids play as the sun disappears behind the Channel Islands. We agree that there's a lot to love about the Cape Dorys, though taking on a fixer-upper is less than ideal. Still, for the first time in our six-month search for a sailboat, we both know exactly what we want.
My target's specific now, so I expand my online search beyond California to include Arizona and Texas. It's a bit of a reach, but what the hell, I include the Pacific Northwest as well. Then, one morning in late October, I stumble upon a freshly published Craigslist ad from Washington state: 1972 Cape Dory 25—with trailer—refit and upgraded.
The listing is detailed and meticulous. The owner has just completed an extensive, 3.5-year refit that's given Delilah new sails, reworked deck coring, a strip and renewal of the gelcoat, new standing and running rigging, new wiring, fresh paint, and more. As an early Cape Dory 25, Delilah is a George Stadel design, not an Alberg, but she's every bit as pretty.
I watch as Emily reads the ad for the first time. Her smile says it all. "So beautiful," she says, swiping through the photos. "And it's hunter green! David, email him right now."
It's a fact: 85 percent of people pursuing out-of-state sailboats in the time of COVID are either crazy-in-love or stupid. By now I'm both, so I have to work to win over the seller, who initially tells me he hopes to sell to someone local who can easily see the boat. And so, after exercising some soft skills over email I find myself on the phone with Wade, the seller, swapping stories, reviewing images of the refit, and later sending along a deposit that'll effectively hold the boat.
One week later, my unlikely plan is in motion. Friday at 4 a.m., a buddy and I load up a rented pickup and leave California on a 19-hour drive to Wenatchee, Washington. We drive 1,200 miles and make it to Wenatchee by midnight. In a small motel, we do the COVID shuffle, disinfecting doorknobs, wiping surfaces, and playing paper-rock-scissor where the loser has to touch the TV remote. After a quick toast, we zonk out.
We're up early, before the vacuums hit the hallways. The motel is just minutes from the boat, so I've barely had my coffee when we pull into Wade's driveway where Delilah is resting on her trailer. Even covered in ice, the boat looks amazing. Wade gives me a walkaround and details the many ways he's prepared her for the long drive back to California. I also get a peek at the garage-workspace of a talented guy who can do woodwork, weld, fiberglass, and restore a vintage boat. A guy who's spent hundreds of hours sanding, so I can go sailing.
I wish we could stay longer, but it's a pandemic. So, when the paperwork is done, we're on our way, towing Delilah down the driveway and waving goodbye. I feel a rush of emotion as we go. Maybe it's because of what Delilah has meant to Wade, or maybe it's because of what she's already beginning to mean to me.
Anyway, I'm two miles down the road, wiping tears from my eyes, when the phone rings: "Did you mean to overpay?" Wade asks, laughing. "There's too much money in this envelope." I am totally unqualified for financial matters; it's one of my best qualities.
When we circle back, Wade's standing in the driveway with the extra cash in an envelope. "Take this too," he says. He hands me a small tote bag he recently sewed from Dacron left over from one of Delilah's old sails. "I'm glad the boat's going to someone who appreciates her," he says. "Have fun."
Twenty-plus hours of mountain passes, rain, snow, and way too many A.M. radio stations dedicated to political conspiracy theories later, we arrive back in LA. The family comes running out when we pull into the driveway. The kids crawl around the boat, opening compartments and poking heads out of the hatch. That sense of joy from my childhood is coming full circle now, and I sleep well that night.
In the morning, I take Delilah down to Marina Del Rey where a friend and I rig a sailboat for the first time. Astonishingly, we successfully step the mast. Then, when all's good and ready, I back Delilah down the launch ramp and watch as she floats effortlessly off her trailer and onto the water.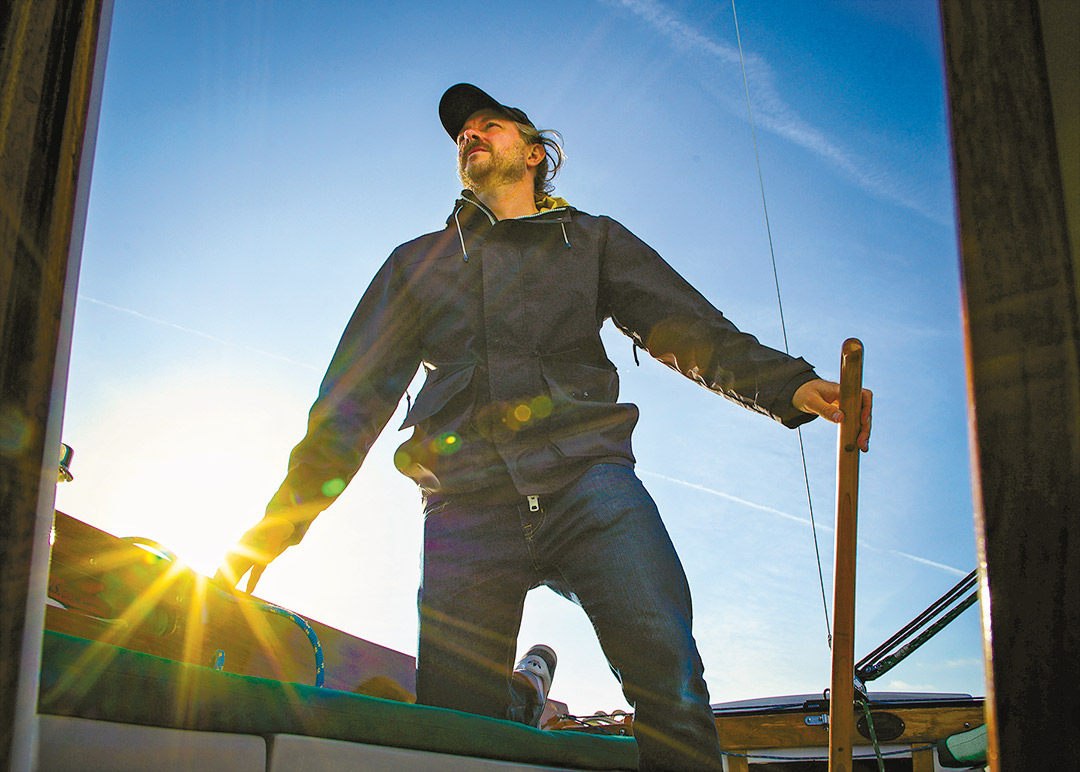 The outboard is empty but will run on fumes to get us to the slip. I stand tall and hold the tiller, looking over Delilah's bow and listening to the sound of water as it laps at the hull. I know then that I love this little boat too. And, tomorrow, when I raise her main, unfurl her jib, and fall off the warm Pacific wind I'll swear I'm that kid again.