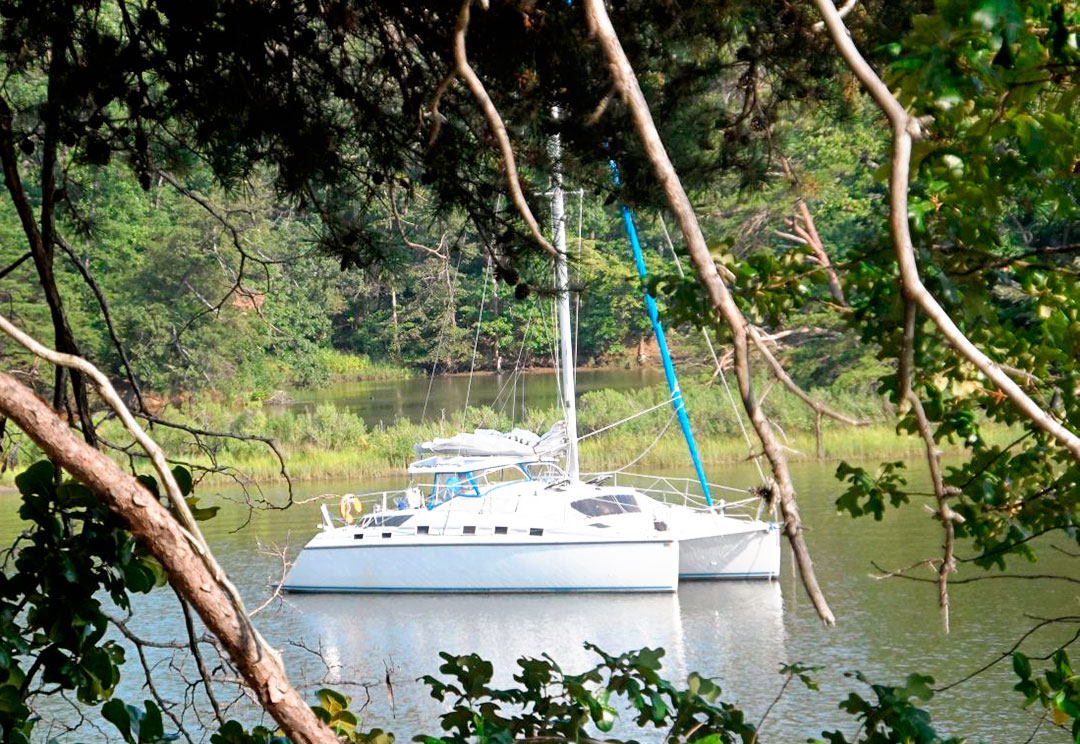 One of the most painful things I've ever done aboard a boat occurred while sailing Shoal Survivor, my PDQ 32 catamaran, off the coast of Virginia with my wife and 15-year-old daughter. Permanent berths were available for the three of us, but when it was hot–and it definitely was on this trip–I'd often sleep on the berth that was created by lowering the cabin's dinette table.
One morning, after waking up and feeling like I'd slept a bit funny, I reached over a pile of bedding lying on the floor and attempted to return the table to its daytime position. True, I was lifting from an awkward position, but it was going fine . . . until the table jammed halfway up. This was when my back began to spasm. I collapsed.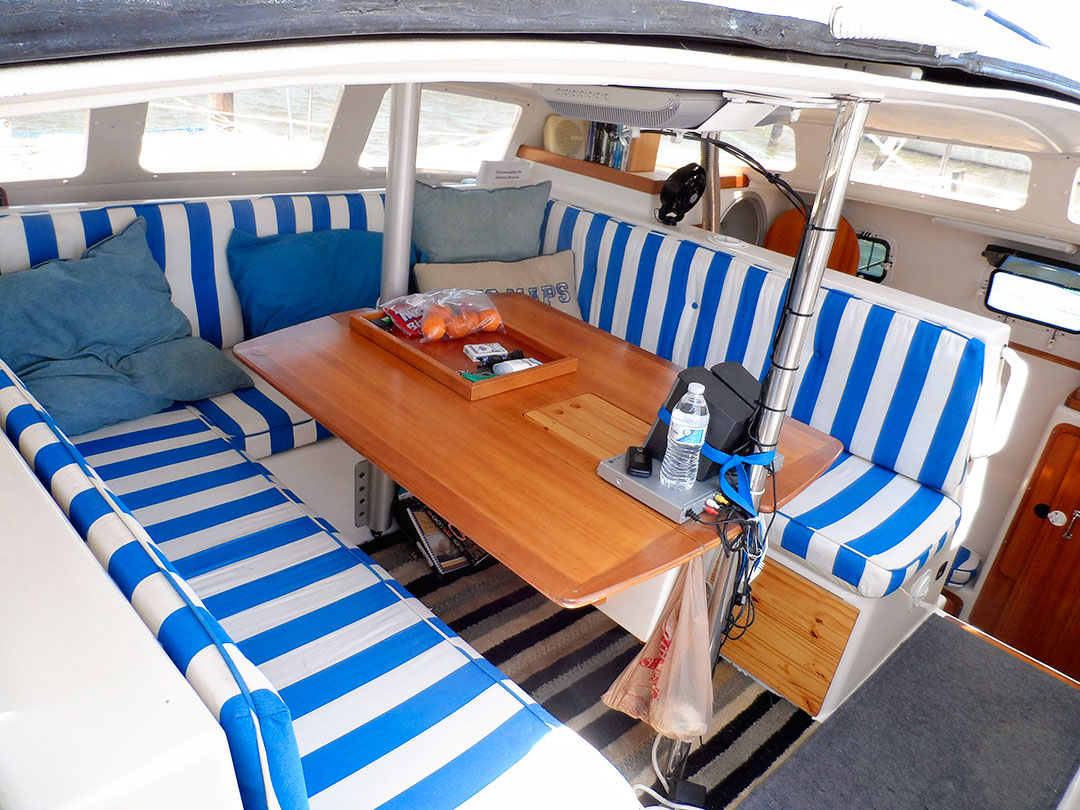 It took 15 minutes just to get off the floor. After a while, and with my back not feeling any better, it became clear that I would not be able to sail the boat for at least a couple of days. Fortunately, I was able to rouse my daughter. She was familiar with the next harbor entrance, and I was able to coach her through the day's sailing from my spot in an aft cabin while lying on a heating pad.
Never again.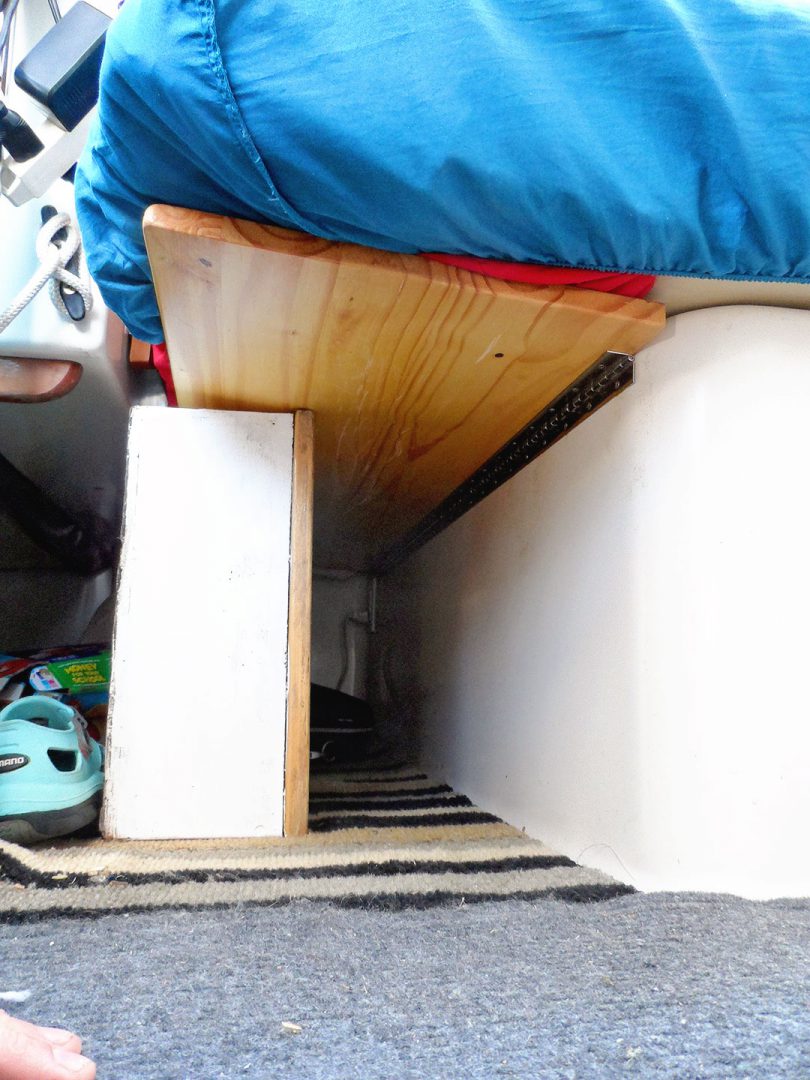 Instead of dropping the dinette table, I added separate, permanently fixed, drop leaves along the edge of the settees to create a pair of nearly twin-sized bunks. This saved both the effort required to clear the table and the struggle to then find places for everything that had been removed. Since the center section of the dinette table also contained a large storage compartment, and the contents of the compartment added even more weight to the table, it was a relief to no longer have to lower or lift something so prohibitively heavy.
The leaves were 12-inch pine shelf boards attached to the seat edge with a piano hinge. I intentionally cut the leaves so that when they were in the folded-down position they hung about three inches short of the cockpit sole. This was an arrangement that allowed for adequate heel room when seated at the dinette.
Instead of building complicated and potentially weak leg supports, we just shoved rectangular boxes under the leaves, one of which also served as a step in the cockpit. The boxes were made of ½-inch plywood and were dead simple and quite strong. I cut three-inch foam fillers to fit the extensions and made simple covers by pulling king-sized pillowcases over each end and joining them with Velcro where they overlapped. For added thickness, a mattress topper went over each bunk.
If only one bunk was needed—often the case—the other side of the table was still available for use. The dinette leaves in their folded-down positions created a handy leeboard. The result was a very snug and comfortable berth that even a child could set up. We often did this in the evening, after dinner, which created a convenient lounging spot for two to watch a movie, and the small table in the middle was still available for drinks and snacks.
It was easy.
And, best of all, no heavy lifting was required for breaking it down.