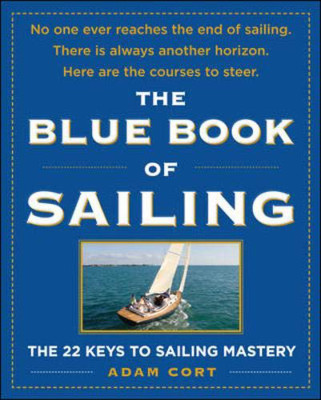 Like angle of sail, the wind — its strength, its direction, the way it's trending — should always be in the back of a sailor's mind. – Adam Cort
Whether you are already an experienced blue-water cruiser, expert racer, sail for pleasure or are just learning to sail, reading The Blue Book of Sailing will have you looking and thinking about sailing in a whole new way.
According to the author, Adam Cort, when you know your boat and how it responds to different conditions, you are able to plan ahead and know what actions to take. This may seem simplistic. Believe me, it is not. So many topics are covered in The Blue Book of Sailing, and in such a comprehensive manner, that you will want to keep a copy on your bookshelf for future reference.
Cort's goal is to "bridge the gap between basic sailing skills and true sailing knowledge." He accomplishes this by taking us chapter by chapter, beginning with basic sailing maneuvers such as tacking, jibing and points of sail — and in 22 chapters he unveils the keys to sailing mastery.
He begins with "Knowing the Angles" of sail, called point of sail. Know if you are on a run, reach, beam reach or close reach. Detailed descriptions and easy-to-read illustrations set up a great general knowledge base for all that follows.
In "Getting to Where You Want to Go" you will jibe, sail downwind, sail windward and even zigzag. Then you will find out "How to See The Wind." Cort advises to sail without a wind indicator to develop your skills and look around — the wind is not really invisible.
The author explains in "Catching the Wind" that sails are more intricate in design than airplane wings. In fact, both sides of a sail work in unison in powering a boat through the water.
How do your keel and rudder come into play when "Steering with Your Sails"? Find out all the facts when it comes to getting centered, resistance, balance and heel and you will know instinctively how to steer with your sails.
Read on — "The Anatomy of a Knot" and "Docking Under Sail and Power" chapters offer a multitude of information on the best knots to use on our lines and sheets and step-by-step directions for docking.
Why are boats designed differently? The chapter "Sail Plans and Lines Drawings" gives readers the opportunity to study in-depth illustrations and details on boat rigging, sterns and hulls and discover the answer — and why they do what they do. Then follow up with "Keels, Rudders and Other Hull Features" and learn how different shapes affect speed, comfort and resilience.
The Blue Book of Sailing also covers why sails are shaped like triangles, boat speed, why sailboats don't tip over (usually), and even the basic question of why we sail.
Do you want to become more than what Cort calls a "practiced novice?" Reading The Blue Book of Sailing will definitely take your sailing to a new level.
The Blue Book of Sailing: The 22 Keys to Sailing Mastery by Adam Cort, (International Marine/Ragged Mountain Press, 2009; 264 Pages)